Workload and production
Demand for patents remained high in 2020, despite the pandemic. The EPO received 180 250 European patent applications last year, which was just 0.7% below the 2019 figure. A total of 106 786 Patent Cooperation Treaty (PCT) applications were filed (+1% versus 2019), while direct European patent (EP) applications decreased by 3.1% to 73 464 compared with 2019. Growth in applications from China and Korea over the course of 2020 did not compensate for growing weakness in filings from Europe, Japan and the USA.
The highest growth in applications was seen in pharmaceuticals (+10.2%) and biotechnology (+6.3%). The Office's total incoming search, examination and opposition workload of 417 590 increased by 1% versus 2019. More specifically, the EPO received 248 100 search requests (+3.0%) in 2020, as well as 166 111 requests for European examination (+2%). Examiner output reached 401 996 search, examination and opposition products in 2020, which was just 1% below the pre-pandemic plan.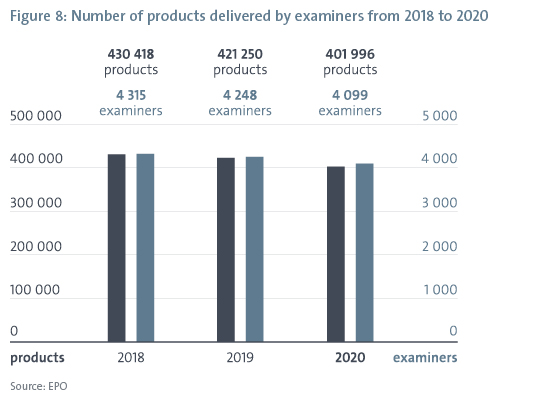 The EPO's pending workload at the end of 2020 represented 11.7 months of work, while overall stock levels fell by 1% compared with 2019 despite the pandemic. By the end of the year, the examination stock (80% of total stock) was 4% lower than in 2019.
Due to the cancellation of in-person oral proceedings as of March 2020 and the slow uptake of a pilot for online oral proceedings in opposition launched in May, year-end opposition stock was 34% higher than in 2019. In parallel, the age of the opposition stock increased from 8.6 months in 2019 to 12.8 months at the end of 2020.
The EPO published 133 715 European patents in 2020, -3% compared with 2019, but well above its 120 000 target. Based on the expected decline in the number of patent applications in the mid-term, the EPO will continue to reduce its examination backlog and balance examiner capacity to match incoming workload forecasts.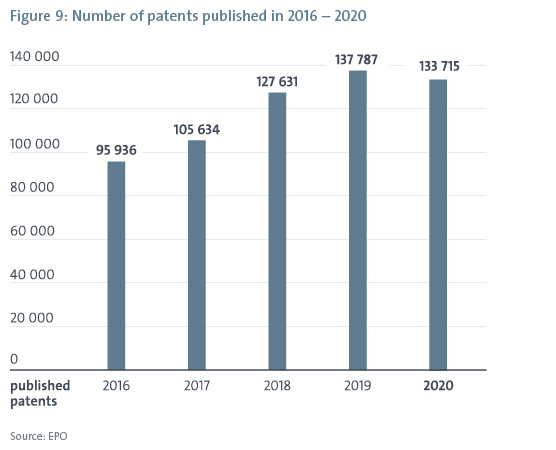 Timeliness
The improvements in search timeliness seen in recent years were consolidated in 2020, with the mean time for search completion at 4.5 months. The timeliness of our different search products can be broken down as follows:
EP first filings2: 5.7 months from priority (duration target: 4 to 6 months from priority)
EP second filings: 4.8 months from date of receipt (duration target: 6 months from date of receipt)
PCT first filings: 8.2months from priority date (duration target: 4 to 9 months from priority)
PCT second filings: 2.7months from date of receipt (duration target: 6 months from date of receipt)
Euro-PCT bis3: 4.4 months from formalities done (duration target: 6 months from formalities done)
National first filings4: 8.2months (duration target: 4 to 9 months from priority)
National second filings: 5.2 months (duration target: 6 months from date of receipt)
Longer-term timeliness improvements are expected in examination as the Office continues to reduce its backlog. In 2020, the mean time for issuing the intention to grant was 25.4 months from the valid examination request, while 65% of intentions to grant were issued within 28 months of the valid examination request (75% within 36 months). The overall time to grant for EP first filings was 44.8 months on average, from filing to the intention to grant.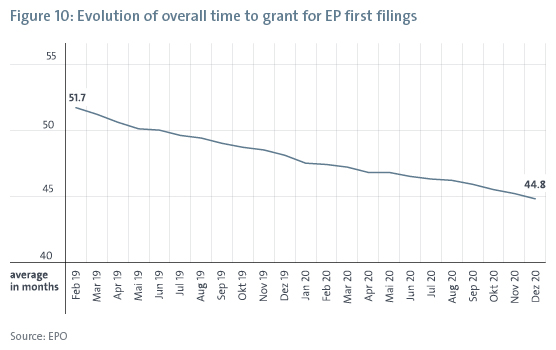 Opposition timeliness improved in 2020, with the mean time for an opposition division to issue its decision standing at 15.5 months from the expiry of the opposition period. However, this figure mainly relates to standard cases (only one opponent, no legal member, no oral proceedings rescheduled) that were either finalised before the COVID-19 outbreak or did not require in-person oral proceedings, and as such does not accurately reflect the bigger picture.
In fact, the widespread cancellation of in-person oral proceedings in opposition due to the pandemic and the slow uptake of the pilot for opposition oral proceedings by ViCo left the EPO with an opposition backlog that was 2 000 cases higher than usual at the end of 2020. Against this background, overall opposition timeliness can be expected to deteriorate as these oral proceedings are rescheduled as videoconferences in 2021.
2 First filings are applications not claiming any earlier priority under the Paris Convention, and second filings are those claiming such an earlier priority.
3 Euro-PCT bis searches are the supplementary searches conducted under Article 153(7) EPC for PCT applications entering the European regional phase where the EPO was not the International Searching Authority.
4 National searches are the searches conducted for national applications filed in 13 European Patent Organisation member states. They are performed on behalf of the corresponding member state.
Quality and timeliness
In 2020, the EPO continued to review its work practices to ensure that quality, simplicity and timeliness are built into its systems. This was achieved by adopting a five-pillar approach to quality focused on design, support, values, metrics and partnership (see the annexed Quality Report for more details).
Getting the right file to the right examiner and division at the right time is central to the Office's commitment to excellence. Last year the Office launched a "pull" file system as a pilot with 74 examiner teams. Instead of direct allocation by stock managers, examiners were empowered to decide when to request their next search file. This resulted in improved timeliness and higher engagement, leaving examiners able to concentrate efforts on the most urgent searches in their technical area.
To cater for mid-term fluctuations in workload, a Digital File Marketplace was created. The Office's existing Digital Talent Marketplace was also improved to rebalance structural capacity based on business needs. In the Digital File Marketplace, teams exchange skills and files transparently, successfully building on initiatives under the "Enhancing Collaboration" project. Examiners from different teams form mixed examining divisions to support timeliness and quality through in-division coaching and collaboration.
The new Digital Talent Marketplace is a forum supporting flexible resourcing via professional mobility. It empowers staff to seek new opportunities on their individual development journey at the EPO. Together, these two platforms, coupled with "pull" file allocation, are enabling the Office to continuously move at a "cruising speed", effectively balancing workload and capacity fluctuations while enhancing timeliness and quality.
Collaboration and knowledge sharing
By empowering teams to take ownership of their own work practices, the "Enhancing Collaboration" (ECo) project launched in 2020 boosted staff motivation and engagement levels. Participation in ECo was extended to 65 examiner teams and eight formalities teams by the end of the year.
A key development was online "search jams", where examiners learn from each other by searching a file together. A total of 15 peer-to-peer online seminars were held, in which some 25 collaboration methods were presented. An "Eco Store" online platform now offers descriptions of the best-practice collaborative approaches, covering all phases of the patent granting process across all technical fields. A first series of online lectures from Boards of Appeal chairpersons was also well attended, with the lecture on clarity attracting over 1 100 simultaneous views.
Optimising oversight
In 2020, the EPO redesigned its search and grant audit processes to include face-to-face meetings between examining divisions and auditors in cases of disagreement with the audit notes. As a result, this "grey zone" of disagreement has decreased, with agreement levels rising from approximately 90% (in Q3 2020, 12-month rolling figure) to approximately 96% (as measured in Q4 2020). This new approach not only builds trust between examiners and auditors, but also creates learning opportunities, ultimately moving both sides towards a common understanding of quality standards.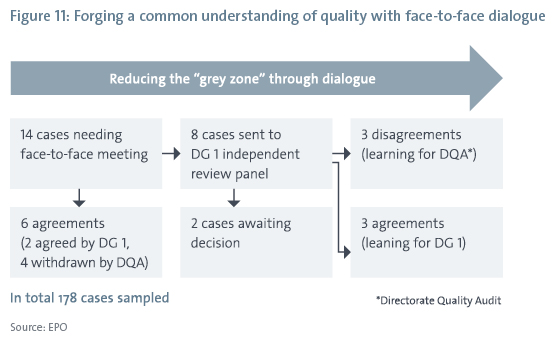 Mastering the prior-art
In 2020, several enhancements were made to the EPO's classification tools to ensure swift and complete document classification. Workload management and quality control mechanisms were further improved, bringing the classification backlog into the "excellence" area. The EPO also saw a steady decrease in the number of classification-related incidents reported to the IT Service Desk last year.
In parallel, preparations started on several projects to bring artificial intelligence (AI) into all aspects of classification. A first important milestone will be the replacement of the current external service by an internal AI engine for pre-classification. Work started on integrating all classification tools into the ANSERA search tool, and a new tool enabling partial reclassification was built for rollout in the first quarter of 2021.
Within the framework of the Cooperative Patent Classification (CPC) with the United States Patent and Trademark Office, a major new harmonisation exercise was launched in 2020. At the same time, the CPC revision backlog was brought down to virtually zero. A streamlined CPC revision process was also defined to reduce the time from request to publication to just nine months.
Overall, 2020 was a strong year for the EPO in terms of quality. Our staff's tremendous response to the pandemic, coupled with the rollout of new digital tools and workflows, delivered tangible results on multiple fronts. The EPO increasingly started dealing with the right file in the right way and at the right time, classifying documents as they came in and addressing older files. Timeliness improved, as did the objective quality of the EPO's products and services measured by internal grant audit compliance rates. Going forward, the EPO will make every effort to consolidate these gains and translate them into added value for its global community of users.