Towards a fully digital patent granting process
Building on the acceleration seen in digitalisation in 2020, the EPO continued to develop the backbone of the end-to-end patent grant process (PGP) that will support its operations in a digital world. Deeper insights into digital transformation are offered by the EPO's IT Report 2021 but the highlights are covered below.
Patent Workbench, first launched in 2020, was extended with workflows for procedures including refusals, refunds, informal phone conversations, scheduling of oral proceedings (including auto-scheduling), integration with Zoom, the production of minutes and communications in 2021.
In total, over 99% (by volume) of the workflows in the European patent procedure were covered by the end of 2021 and work started on digitalising the first workflows for some PCT procedures.
Figure 16: The EPO's Patent Workbench for the digital end-to-end patent granting process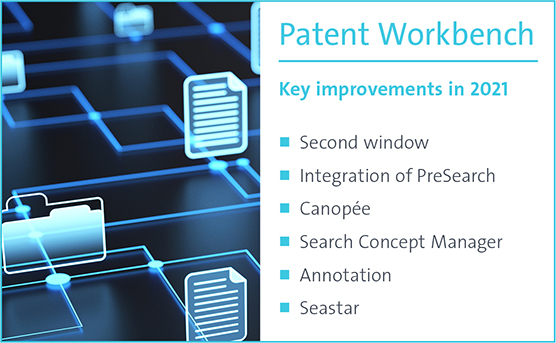 Source: EPO
Building on the successful approach to delivering products incrementally, a minimum viable product of the digital file repository was launched at the beginning of 2021. This new digital archive manages and stores all incoming and outgoing patent application documents in multiple formats as they are processed. By the end of the year, improvements had been made to the digital file repository, which was ready to be rolled out across the core business.
Figure 17: Moving from automatic file printing to digital, paperless solutions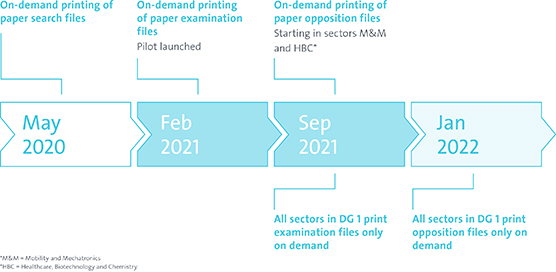 Source: EPO
Based on these developments and 3 700 iPads provided to examiners and formalities officers who opted into the scheme, the EPO stopped the automatic printing of all examination files and shifted to an on-demand model, marking a major step for the EPO in reducing its overall paper consumption.
The transition towards digital, paperless solutions and the integration of collaboration tools have also opened the door to greater collaboration and knowledge sharing between examiners, even when working remotely. In short, digitalisation has delivered tangible benefits for the Office far earlier than expected.
Figure 18: Aly [2] mobile application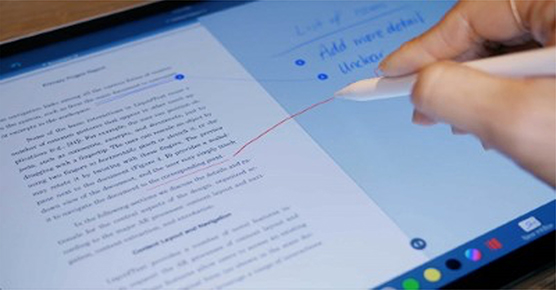 Source: EPO
More importantly, however, users have also been quick to recognise its benefits. This was clearly reflected in the uptake of services like the EPO's electronic Mailbox, which grew rapidly in 2021. As of 1 February 2021, the EPO extended the group of users who may request registration for notification via the Mailbox service to legal practitioners qualified in a contracting state with their place of business there.
The range of communications, summonses and decisions that can be notified via the Mailbox was also extended twice - first in April 2021, then in June 2021 - to include, for example, documents relating to appeal proceedings before the technical boards of appeal and the Legal Board of Appeal (OJ EPO 2021, A37).
---
[2] Aly is a standalone mobile application intended to help examiners and members of the Boards of Appeal in the context of oral proceedings, either in examination, opposition or appeal procedures. It can also be used in search and examination, to annotate claims, drawings and description, or cited prior art.
Search
A key step towards enabling a fully digital search is examiners' ability to create and manage digital annotations efficiently. As ANSERA [3] is the EPO's search tool of choice, its annotation capabilities during the search phase were improved in 2021, with a greater focus on collaboration and knowledge sharing.
Throughout the year, the ANSERA tool was enhanced by accelerating the speed of the search algorithms and the visualisation of results, along with image quality and the visualisation of colour documents.
ANSERA was also extended to include a concept manager, a brand-new tool that enables collaborative knowledge sharing among examiners by creating shared content in search concept libraries and their reuse in ANSERA by other colleagues.
In addition, the integration of pre-search in ANSERA allowed examiners to work directly with pre-search results, meaning that they can now perform the complete search in ANSERA.
Figure 19: Pre-search in ANSERA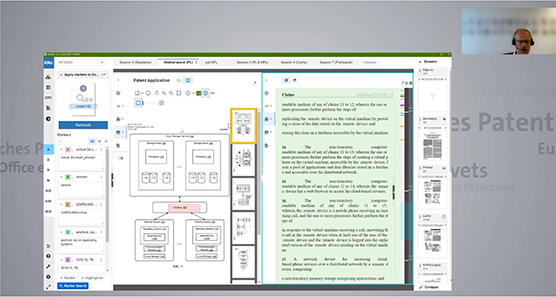 Source: EPO
---
[3] Search tool that combines various search techniques (searching with plain text, figures or markers) into a single co‑operating interface.
Artificial intelligence and blockchain
In 2021, the EPO continued to invest in artificial intelligence (AI) solutions developed in-house by EPO data scientists. Although this is only the beginning of a long journey, there are already clear indications that AI will be a game changer for the EPO.
Thanks to frequent, automated re-training of the model, tracked over time, the EPO's new in-house AI pre-classification engine allocated thousands of files in 2021, with a higher accuracy than its legacy service.
The AI in-house machine translation engine for English, German, French, Italian and Dutch can now translate non-published patent data in a fully controlled environment. This ensures that such data is kept in EPO systems, while benefiting from high-quality automated translations that contribute to sustainable operations.
New online user engagement
Engaging and interacting with users is the cornerstone of building a more sustainable patent office. Crafting IT solutions tailored to users' needs depends on their active and constructive participation and input.
The EPO therefore decided to involve users at every step of the way when developing its new online user area. From setting up a focus group to discuss early prototypes to conducting pilots, users have played a defining role in shaping the new online platform.
While creating tools hand in hand with stakeholders sometimes takes longer, we are convinced that it is the most effective way to meet their needs.
Figure 20: Benefits of the EPO's new online user area

Source: EPO
In 2021, a pilot for the new user area service was launched for parties to proceedings before the EPO. This new platform allows users to view their application portfolio and documents, perform tasks and file procedural requests in reply to a communication from the EPO. It also provides real-time quality checks, reducing the likelihood of errors in submissions.
The first group of 100 users were given access to the new online area in 2021, with over 160 users due to test it over the course of the six-month pilot. Just over 50% of these pilot users are patent attorneys based at companies of differing sizes across 22 countries.
After experimenting with the tool, pilot users provided highly useful feedback. Drawing on their input, the EPO will fine-tune the new user area to adapt it to user needs, providing an effective interaction for the Office and making it more accessible for everyone.
In parallel to working on the user area, the EPO also broadened the reach and scope of its electronic Mailbox in 2021. As of 1 February 2021, it extended the group of users who may request registration for notification via the Mailbox to qualified legal practitioners and applicants resident in an EPC contracting state, irrespective of whether they are acting under the PCT or the EPC.
Figure 21: Overview of EPO Mailbox usage (2013-2021)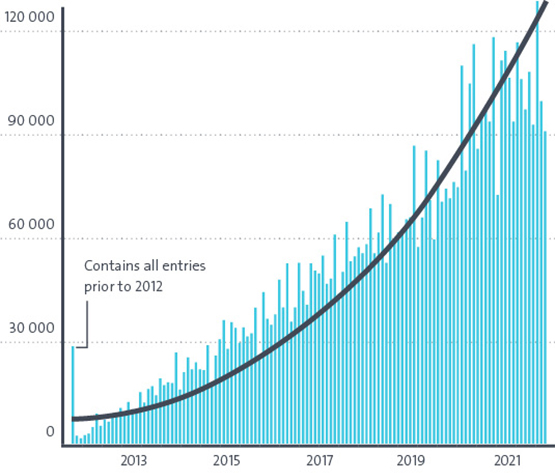 Source: EPO
The range of communications that can be notified via the Mailbox was also extended to include documents relating to appeal proceedings before the technical boards of appeal and the Legal Board of Appeal. These enhancements made it possible to send 98% of all EPO forms via the Mailbox by the end of 2021.
Over 1 000 new users also signed up to this service in 2021, leading to a 25% increase in the number of active Mailboxes versus 2020. This surge in uptake resulted in a total of 1 164 Mailboxes by the end of 2021.
Upgrading digital tools
With the majority of EPO staff continuing to telework in 2021, digital communication and collaboration tools remained hugely important. In addition to reliable 24/7 availability, migrating email and other corporate tools to cloud-based solutions also gave the EPO enhanced protection against malicious email attacks.
Solid progress was also made towards upgrading the EPO's digital HR tools. After a detailed mapping of HR processes, we identified "quick wins" where new or upgraded tools bring instant benefits. One of these areas is learning, where new digital tools open up exciting opportunities for training and personal development.
A new skills framework was created in the digital job profile, for instance, enabling staff to customise their own digital individual development plans. Going digital with talent development not only makes it transparent and traceable, it also provides a holistic view of training initiatives, paving the way for even more effective professional development.
In terms of ensuring business continuity, videoconferencing (VICO) remained a crucial IT tool for the EPO in 2021. After positive feedback on the technical usability of Zoom software during the pilot of oral proceedings in opposition via VICO, the transition of all remote oral proceedings to this platform was completed in 2021. After training all its examiners, the EPO designated Zoom the single platform for examination, opposition and appeals.
Strengthening information security
IT security is fundamental to the operations of an increasingly digital organisation like the EPO. With a view to obtaining ISO 27001 certification in 2022, the EPO adopted a new information security policy framework and continued to upgrade its security technologies in 2021.
Figure 22: Raising awareness of IT security: staff share phishing stories

Source: EPO
Secure remote working solutions are a prerequisite for large-scale teleworking. In 2021, the EPO continued to invest in cutting-edge IT security solutions. By the end of the year, the Office was in a position to permanently update staff laptops without their physical presence on its premises, round-the-clock connectivity was secured and local data was encrypted.
Coupled with a greater staff awareness of IT security, these measures meant that the EPO did not suffer any significant IT security breaches, despite rising cybercrime levels in 2021 and the global Log4J [4] vulnerability in December.
---
[4] Log4j is a Java software that is commonly used across multiple industry and government sectors.
Infrastructure
Reliable IT systems are essential to business continuity. 2021 saw excellent progress in two major IT infrastructure projects at the EPO. Firstly, EPO applications were successfully migrated from the old data centre in The Hague to the new data centre in Luxembourg in 2021. By the end of the year, the only remaining IT systems in The Hague were either local (for example, physical access to buildings, security cameras, printing facilities, etc.) or scheduled for decommissioning during 2022.
Figure 23: Mainframe decommissioning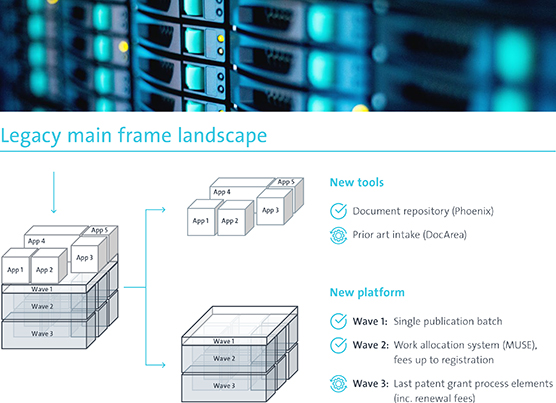 Source: EPO
The EPO also made major strides in the challenging but essential task of decommissioning its mainframe in 2021. Besides its overly complex, unreliable and outdated structure, the old mainframe was extremely expensive to run, costing the EPO millions every year.
Beyond financial considerations, replacing the mainframe technology was crucial to the continuous development of the new patent granting process toolset, which is the cornerstone of a digital EPO.
In 2021, two of the three waves of mainframe decommissioning were completed: MUSE and Phoenix. [5] By year end, these two key systems were running smoothly from the new Linux platform. The third and last wave progressed significantly towards completion in early 2022.
Two major parts of the EPO's IT infrastructure will soon have been substantially upgraded since the launch of the Strategic Plan 2023 in July 2019, marking a milestone in the organisation's digital transformation.
---
[5] MUSE and Phoenix are two tools at the heart of the EPO's patent granting process. MUSE is a system for work allocation, while Phoenix is a document repository.