Leider ist diese Seite derzeit nicht in deutscher Sprache verfügbar.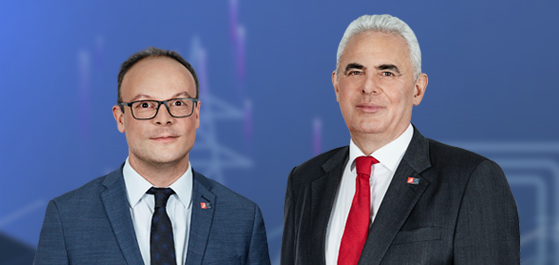 Aidan Kendrick, EPO Chief Business Analyst, and Yann Ménière, EPO Chief Economist, summarise the main patenting trends of 2019. The rise of digital technologies was reflected in strong increases in filings from the US, China and South Korea, with patent applications from the 38 EPO countries also growing. This confirms Europe's position as a key market for the next wave of the global economy's digital transformation.
Aidan Kendrick, EPO Chief Business Analyst
Demand for European patents has risen steadily since 2012. Last year we received a record 181 000 patent applications at the EPO, 4% more than in 2018.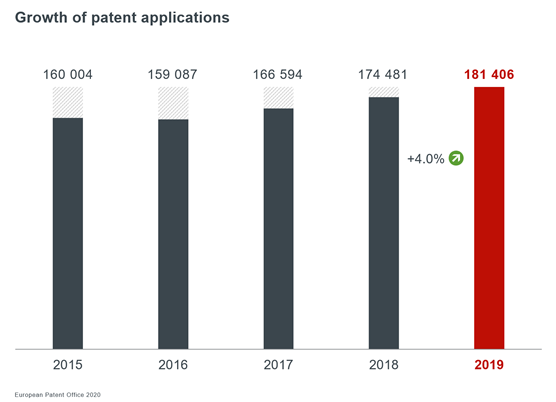 In total, nearly half of all patent applications came from companies based in Europe, with Germany alone accounting for some 15%. From the other regions, US firms dominated with a quarter of all applications, followed by companies from Japan, China and South Korea.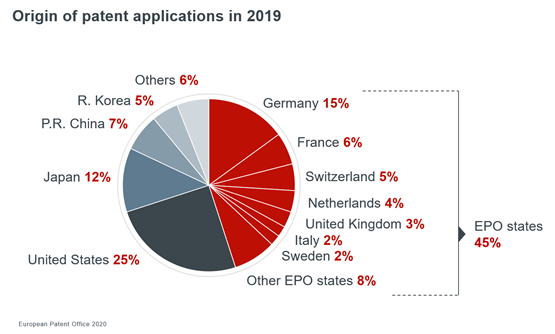 In terms of growth, patent applications filed by European companies increased modestly. There was a strong rise in demand from the US. The steepest growth rates were posted by Asian companies, in particular Chinese and South Korean firms.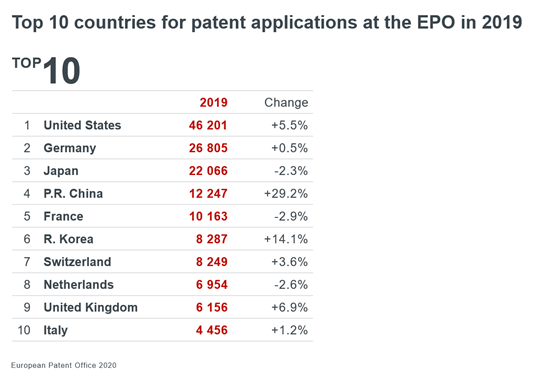 Among European countries with large volumes, the greatest increases in filings came from Sweden, the UK and Switzerland. Filings from Germany remained stable and Italy saw moderate growth, while France and the Netherlands saw decreases.
Looking at countries with mid-range patenting volumes, Spain saw the biggest rise in applications. There were also increases in filings from Belgium and Austria.
Further significant growth was seen from companies in Portugal, Ireland and Norway, albeit from small overall patenting volumes.
The patent applications filed with the EPO in 2019 also indicate Europe's position as a key market for the next wave of digital transformation technologies.
Yann Ménière, EPO Chief Economist
Digital communication was the new top technology field at the EPO, reflecting the rapid development of 5G technologies.
China, the US and Europe were the most active regions of origin. They each account for roughly a quarter of the patent applications in this field.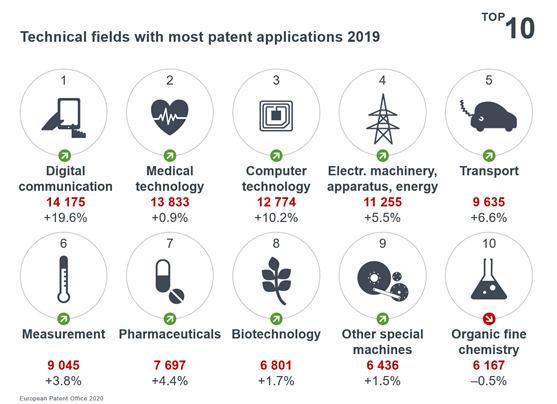 The second fastest-growing field was computer technology. It was fuelled by the growing importance of Artificial Intelligence. Patent applications concerned especially machine learning, data retrieval, image data processing and pattern recognition. Overall, US companies led this field, with European applicants not far behind.
The dominant position of digital technologies was clearly reflected in the list of leading applicants. Huawei topped the table, followed by Samsung, LG, United Technologies and Siemens.
Overall, European companies retained the largest share in seven of the ten most active technology fields. These include transport, where Europe continued to excel in the automotive sector. The same was also true for clean energy technologies.
Aidan Kendrick, EPO Chief Business Analyst
To meet the growing demand for patent protection, we have made the timely granting of quality patents a focus of our Strategic Plan 2023. This will help applicants take informed business decisions.
A dedicated quality report is due by July on all the latest steps we have taken to achieve our objective in this area.