Désolé. Actuellement, cette page n'existe pas en français.
Yann Ménière, EPO Chief Economist (left) and Aidan Kendrick, EPO Chief Business Analyst, discuss the key patenting trends at the EPO in 2021. Filings from many countries and in many technology fields are returning to growth following the declines seen in 2020.
Aidan Kendrick, EPO Chief Business Analyst
Given the levels of global uncertainty twelve months ago, we are now pleased to see that patent applications to the European Patent Office in 2021 were up 4.5% at well over 188 000 - a new record.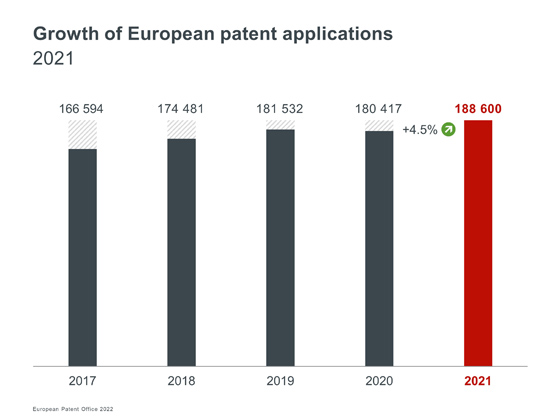 Click to enlarge

Patent applications from most parts of the world have increased compared to 2020. This shows that innovation is bouncing back after the initial shock of the pandemic. The strongest growth by far has been from companies in China, from where filings have quadrupled in a decade.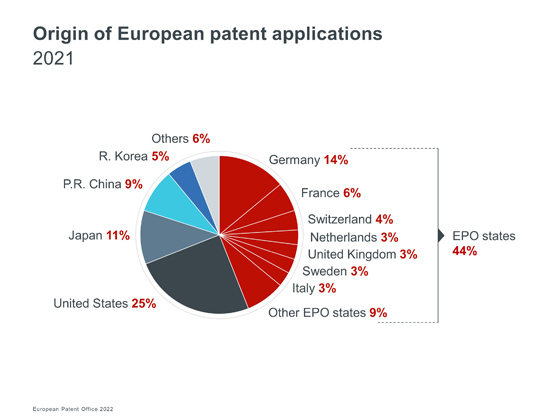 Click to enlarge

European companies filed the greatest share of applications - some 44% - with Germany, France and Switzerland in the lead. Applicants from the US contributed 25%. For the first time their share has been overtaken by that from Japan, South Korea and China, driven mainly by Chinese applicants increasing their own share from 7% to 9% last year. European industry appears to be returning to growth, with big increases in patent filings from companies in Nordic countries, Spain and Italy. More modest growth was seen from companies based in other leading European economies like Switzerland, Belgium and the Netherlands. Germany also returned to growth, but only just.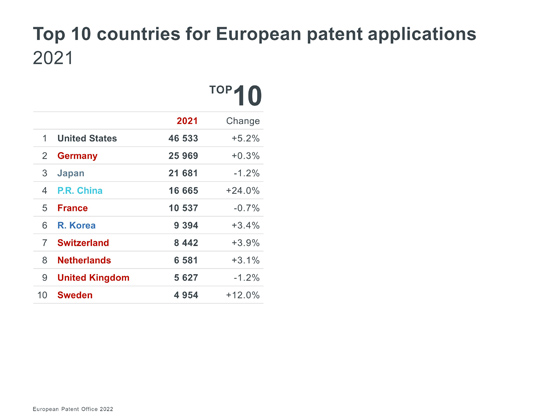 Click to enlarge

The EPO has significantly reduced the pendency for examinations in recent years, which led to a "surge" in granted patents. We now have better timeliness for all products, a more balanced workflow, so patent granting volumes are stabilising.
Yann Ménière, EPO Chief Economist
The continuing boom in digital technologies was clearly in evidence in 2021.
The top technology field was digital communications - with 15 400 applications - edging out medical technology by fewer than a hundred filings. Computer technology was a strong third with over 14 500 filings. Taken as a whole, ICT-related fields now account for over 31% of all applications to the EPO. And the scale of this growth has been remarkable - with increases exceeding 9% for digital communications and computer technology. The related fields of audio-visual technology and semiconductors posted growth of over 20%.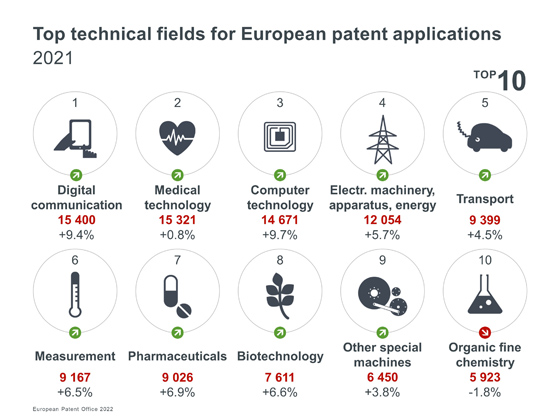 Click to enlarge

Of the 35 technology fields across which all patent applications are classified, more than half have seen filings increase above their 2019 levels. Pharmaceuticals and biotechnology were both up over 6.5% last year, proving that innovation is vibrant in healthcare. Other fields of chemistry are recovering too, as investments in R&D pick up again. Patent filings for some areas of mechanical engineering continue to decline, reflecting stagnation in some conventional technologies.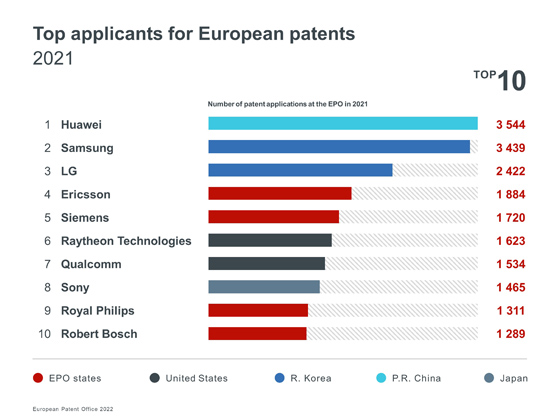 Click to enlarge

Amongst the largest applicants for European patents, four of the top ten companies are European. They are joined by Sony from Japan; Qualcomm and Raytheon Technologies from the US; LG and Samsung from South Korea; and Huawei from China on the top spot, as they were in 2019.