The race for sustainable innovation is accelerating. In terms of the energy we use every day, recent advances present the prospect of self-charging portable devices with integrated flexible solar cells. All around the world, hundreds of billions of euros are being invested in clean energy technologies, with the annual mass-manufacturing market in this area estimated to be worth around 600 billion euros globally by 2030.
Most countries and major economic regions have now pledged to go carbon neutral by some point this century, with the European Union striving to be first: their European Green Deal, approved in 2020, set a legally binding target of net zero greenhouse gas emissions by 2050. Moreover, the International Energy Agency predicts in its latest global Energy Technology Perspectives report that "if all announcements and targets are met in full and on time, they will be enough to hold the rise in global temperatures to around 1.7°C in 2100."

During the lifetime of the European Patent Office, renewable energy technologies have begun to revolutionise our energy systems. Hence the importance of protecting technological ingenuity for a more sustainable world. It was the signing of the European Patent Convention (EPC) on 5 October 1973 that helped make many of these technological advances possible.
As the energy sector currently accounts for around three quarters of global greenhouse gas emissions, technologies for the transition to renewable energy will be crucial to achieving this climate goal. Some have already matured, including solar power technologies, as reflected by the peak in patent applications published around 2012. However, here too the potential of surprising new advances continues to be explored, as seen in the case of floating solar farms.
Case study: Floating solar farms (PT)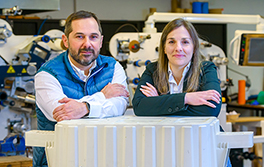 Engineers Nuno Correia and Carla Gomes of Portugal's Research and Technology Organisation (INEGI) led the development of a mooring platform for floating solar farms. The system tracks the sun, rotating each solar panel to optimise efficiency. Correia and Gomes developed the system under contract from technology company SolarisFloat, which will commercialise it. In 2022, the Portuguese team was a European Inventor Award finalist in the SMEs category.
The next generation of low cost, high output photovoltaic materials are creating fertile ground for new start-ups too, like Heliatek in Germany, a company founded by OLED pioneer Karl Leo, who won the European Inventor Award in 2021 in the category Lifetime achievement. Innovation in solar power systems to date will support the goals of the recent REPowerEU plan, for example. Part of the programme aims to bring online over 320 GW of solar photovoltaic newly installed by 2025, more than twice today's level, and almost 600 GW by 2030. To this end, a European Solar Photovoltaic Industry Alliance was launched last year. It complements existing industry alliances for batteries, where innovation continued to surge in 2022, and hydrogen, where innovation is also on the rise.
In fact, a decisive change in direction of innovation occurred after the 2015 Paris Climate Conference, as the effects of climate change became more and more tangible, and conflict repeatedly triggered increases in the price of fossil fuels. Innovation in technologies for fossil fuel production has seen a continuous decline since 2018, coinciding with power from new renewables becoming dramatically cheaper than power from new fossil fuels in most places. This follows an 89% decline in the price of electricity from solar between 2009 and 2019 for example.
Case study: Self-charging portable devices (SE)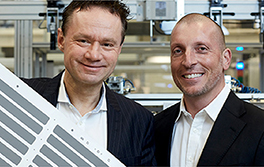 Swedish innovators Henrik Lindström and Giovanni Fili are realising their dream of self-charging portable devices. Their solar film is highly versatile and can be printed in different colours, shapes or patterns. First integrated into bike helmets that use self-charging lights, several potential uses are being researched. These include powering smartphones, e-readers and sensors as well as installation on façades, rooftops and windows. In 2021, Lindström and Fili won the European Inventor Award in the Small and medium-sized enterprises (SMEs) category.

However, now that price is no obstacle, it is the intermittency of renewable energy that poses one of the greatest challenges.This, in addition to the primary drivers of expanding markets in consumer electronics and more recently electric vehicles, is contributing to the huge increase of innovation in energy storage technologies.
Balancing supply and demand
The area of batteries saw by far the greatest increase in filings of almost any area in 2022 (+48.0%), continuing a trend that the EPO analysed in detail in a joint global study with the International Energy Agency (IEA) published in 2020, entitled Innovation in batteries and electricity storage. Batteries are not only essential for powering consumer electronics and e-mobility, where the primary focus remains on lithium-ion (Li-ion) batteries.
Case study: Battery pioneers

During the past decade or more of intense innovation in batteries, the European Inventor Award has recognised some of the most outstanding achievements of the area's leading inventors. In 2012, when urban mining, the circular economy and closed loop supply chains were still seldom discussed, French scientists Farouk Tedjar and Jean-Claude Foudraz already featured as finalists thanks to their method for recycling batteries. Previous winners of the award include Esther Sans Takeuchi, a US-based battery pioneer in the field of medical technology, as well as the Japanese scientist, Nobel laureate and father of the Li-ion battery Akira Yoshino. Last year, the US chemist Donald Sadoway (pictured) won the award for his invention of liquid metal batteries to store renewable energy at a large scale.
Along with other forms of energy storage, batteries also enable power from renewable sources to be integrated into energy systems. This helps meet the challenges posed by the intermittent nature of energy from wind and solar. There may be high winds overnight and it could be sunny at the weekend but in terms of peak demand, domestic use surges at dawn and dusk; and industry usage tends to surge Monday to Friday.
Click to enlarge
Overall, Asia accounted for more than two thirds of all patent applications in the area in 2022, with more filings coming from applicants in South Korea than from those in Japan, traditionally the leading country of origin. South Korea's LG Group and SK Group more than doubled their filings compared to the previous year, as did Japan's Panasonic. P.R. China's Contemporary Amperex Technology Co. Limited (CATL), which opened western Europe's first large-scale production plant for Li-ion batteries this year in Erfurt, Germany, increased its filings by almost a quarter in 2022.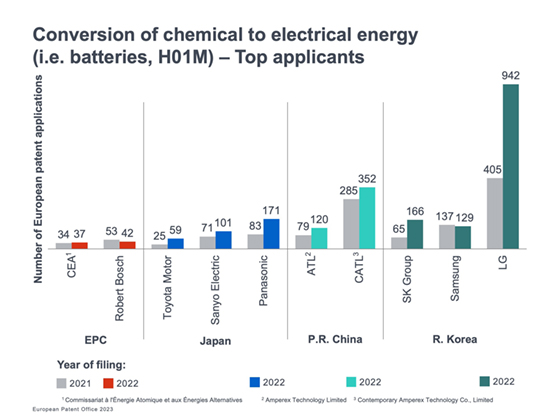 Click to enlarge
It is principally the surge in battery innovation that has driven growth in the technology field of Electrical machinery, apparatus & energy, which saw the greatest increase in filings among the top ten fields at the EPO in 2022. As one of several key players in the development of closed-loop systems for the reuse and recycling of waste batteries, LG filed almost three times more patent applications than Signify in second place, whose origins as the former lighting division of Philips go back to the beginning of electrification.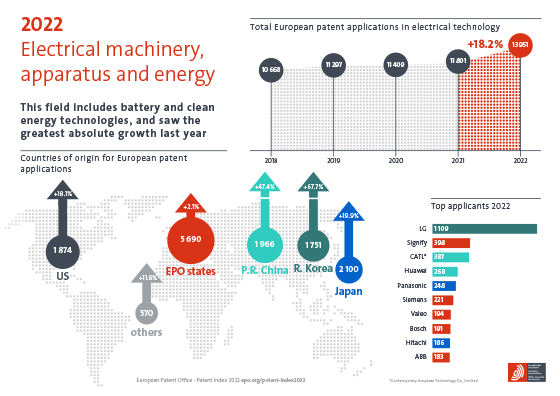 Though applicants from EPO member states account for more than two fifths of innovation in the field, their filings are still exceeded by the combined volumes of patent applications from Asia, where those from South Korea (+67.7%) and P.R. China (+47.4%) are beginning to equal those from Japan. Having also seen a significant increase in filings, Japan (+19.9%) itself narrowly overtook Germany (-3.5%) as the leading country of origin for the first time since 2015. The US also saw considerable growth (+18.1%) but fell behind China for the first time.
Towards smart grids
This will remain a technology field to watch in the future, as the share of renewable energy sources grows across all energy systems and smart grids are required to adapt to the increasingly complex task of balancing supply and demand. In addition to energy storage systems, smart grids comprise smart metering infrastructure, smart distribution boards and circuit breakers. These elements are interconnected and monitored using fibre broadband paired with a wireless backup system.
According to ETSI, the aim is to "cost-efficiently integrate the behaviour and actions of all users connected to it - generators, consumers and those that do both - in order to ensure economically efficient, sustainable power system with low losses and high levels of quality and security of supply and safety." Therefore, future digital energy infrastructure must enable the effective exchange of information, including that generated by the latest home energy management systems.

The EPO's Clean energy technologies platform harnesses the expert knowledge of EPO patent examiners, who have prepared detailed and precise patent search strategies on dozens of green technology topics that any member of the public can run for free on our public Espacenet database. For an overview of renewable energy, smart infrastructure, sustainable industries of the future and more, see the EPO's Green tech in focus pages.
A decade ago, prior to the explosion of innovation in digital communication and computer technology, the field of Electrical machinery, apparatus & energy was second only to medical technology. Now the world's leading technology companies are developing their own wind and solar parks. The innovation required to modernise the world's electricity grids for the well-being of both people and theplanet may well drive future growth in patenting volumes in the field, as well as bring about further convergence with digital technologies.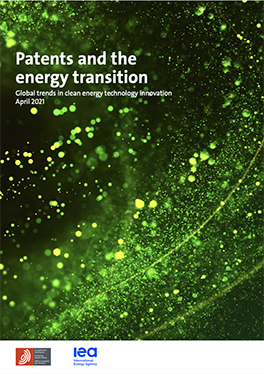 Since the year 2000, global patenting activities have been increasing faster in low-carbon energy technologies than in fossil fuel technologies. But will this suffice to achieve carbon neutrality in the EU by 2050? Learn more in the joint EPO-IEA study, Patents and the energy transition.

Meanwhile, alternative decentralised ways of storing renewable energy are being developed all the time, especially those that make versatile use of more locally available resources. This avoids dependence on the import of materials mined far from the point of use under conditions that can give rise to unreliable supply chains and further environmental damage. It also potentially overcomes the constraints of other traditional energy storage systems like pumped-storage hydroelectricity plants. Materials such as locally produced salt can be used for the purposes of thermal energy storage, for example. In terms of mechanical energy storage, solutions for storing energy during off-peak periods or high-wind speeds are being explored using flywheel energy storage, where a rotor (flywheel) is accelerated to a high speed and then releases its kinetic energy through a dynamo to create electricity, slowing the rotor.
Further, research is being conducted into several other niche areas, such as integrating energy storage systems directly inside the hollow tower of wind turbines. However, few areas of clean energy technology have attracted so much recent attention as green hydrogen, which has tremendous potential for energy storage purposes, as well as a fuel. In this case, "green" refers to hydrogen produced using electrolysers powered by renewable energy with zero emissions. If used as a fuel, hydrogen's only by-product is water, so again there are zero emissions.
The global hydrogen revolution
Patent Index 2022 lists the Top 50 applicants at the EPO. Among these are some of the leading companies and research centres operating at the cutting edge of hydrogen technologies, as identified by this year's joint study on hydrogen patents for a clean energy future, the most recent in the series on sustainable energy technologies published by the EPO and IEA. Toyota, for example, is one of several leaders in the race to commercialise hydrogen fuel cells in the automotive industry. Airbus is aiming to develop the world's first zero-emission commercial aircraft using a hydrogen turbine.
Case study: Green hydrogen from sunlight and air (BE)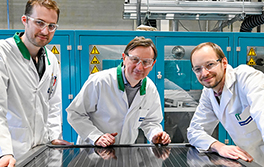 Belgian scientists Johan Martens, Tom Bosserez and Jan Rongé have invented a solar panel that produces clean hydrogen gas from sunlight and ambient moisture, potentially providing an alternative source of green energy for buildings around the world. In 2022, the trio were finalists for the European Inventor Award in the Research category.

In terms of research, the focus of France's Commissariat à l'Energie Atomique (CEA) on climate-motivated production technologies, including electrolysis, also stands out. The study acknowledges the efforts of further top 50 applicants to advance some of the hydrogen technologies required to help meet climate goals, including Panasonic, Siemens and General Electric.
Outlook
As a new industrial age dawns, innovation in clean energy technologies will continue contributing to the United Nations Sustainable Development Goals (SDGs), including with a view to achieving universal access to energy (SDG 7), tackling climate change (SDG 13) and reducing the severe health impacts of air pollution (part of SDG 3). Reducing global warming, even if only by fractions of a degree, through myriad incremental changes in many areas could change the course of history. As new energy landscapes evolve fast, the clean technologies being developed and rolled out now could help ensure that our future unfolds in a far safer, healthier environment.