Attract talent
In light of the uncertainty caused by the pandemic, the EPO focused on leveraging its internal talent pool resources to address its business needs in 2021. This cautious approach to external recruitment created a range of development opportunities for existing staff.
At the same time, the EPO started building external talent pipelines specifically for its core business. A pipelining exercise was conducted in May 2021 for examiners in the fields of healthcare, biotechnology and chemistry, and shortened regular hiring cycles by nearly six months for 30 new examiners recruited in 2022.
New employer branding campaigns were also launched to attract a diverse range of candidates in terms of nationality, age and gender. By the end of the year, the EPO Jobs group had over 13 000 members on LinkedIn and over 15 000 followers on its Facebook account.
Figure 1: Employer branding in 2021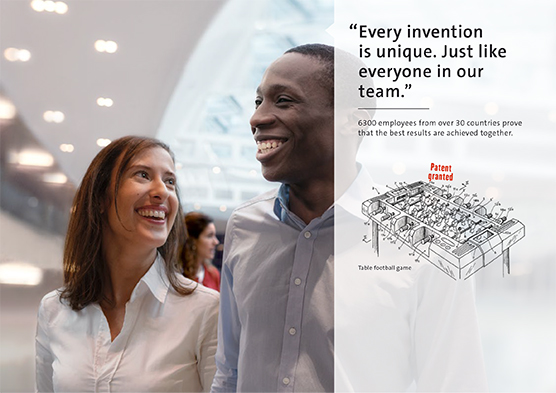 Source: EPO

The EPO also participated in multiple job fairs in 2021. A highlight was the Top Women Tech Summit, one of the world's leading job fairs for female engineers and scientists. At the 2021 event, around 100 live participants expressed their interest in a career at the EPO, attending talks on a range of topics from the role of an examiner to career growth from a woman's perspective.
The EPO was ranked as the most interesting employer participating in the event, ahead of a number of large international companies. Thanks to such events, the EPO saw a 10% spike in the number of incoming female applications for its 2021/22 examiner recruitment exercise. Ultimately, this led to a 16% increase in appointments of women compared to the previous round of external recruitment conducted in 2019. For more facts and figures on recruitment, see the EPO's Social Report 2021.
As an employer, the EPO not only offers a stimulating international working environment, but also an attractive compensation package. One key component of this package, namely the EPO's education and childcare benefits, was reformed in 2020/2021.
Under the new scheme, all EPO staff with dependent children are entitled to support, regardless of their nationality. The new scheme is designed to redistribute benefits among more staff members in a more harmonised manner. It is also easier for staff to understand and for the Office to administer.
Develop talent
Learning activities in 2021 focused on maximising synergies between formal training offered by the EPO and continuous knowledge transfer (CKT) or skills gained on the job. In parallel, the EPO also developed a skills framework to help individuals take greater ownership of their own upskilling and development journeys.
Figure 2: Promoting continuous learning

Source: EPO; Mark Downey
Milestones reached in 2021 included:
Digitalisation (iLearn): The deployment of the EPO Talent Academy's services in iLearn, the EPO's single digital gateway to all learning opportunities, was completed and the previous learning management system decommissioned.
Virtual training: The transformation from classroom to virtual training continued in 2021. Efforts focused on replicating the main advantages of face-to-face learning in a digital environment, while highlighting additional benefits such as on-demand learning options to support a better work-life balance.
Job-specific development programmes: New, tailored programmes for procurement professionals, management assistants, finance and accounting experts, instructors and Ombuds Office professionals were launched to help staff upskill.
Skills framework: A skills framework was launched for formalities officers, along with a pilot framework for examiners. The skills self-assessment was completed by 80% of formalities officers and 75% of examiners participating in the pilot. Thanks to the data gathered from the framework, the EPO will be able to map skills more effectively and identify internal mobility opportunities.
Leadership event: This virtual event brought together the EPO's leadership community to learn and share best practices, thereby realigning with the organisation's strategic goals.
"iLearn@work week": Open to all staff, this event aimed to promote continuous learning, with a host of sessions on how to improve functional, soft and leadership skills.
In addition, the Office is also supporting the professional development of its staff in achieving recognised certification. The European Patent Academy has designed the syllabus and started drafting learning materials for the European Patent Administration Certification (EPAC) to be launched in 2022, which will provide a new benchmark and certification for EPO staff, such as those working in formalities.
All these elements come together to form a lifelong upskilling journey aimed at promoting professional development and encouraging personal growth.
Figure 3: Building a digital skills management platform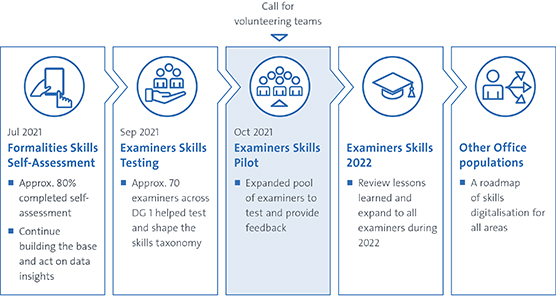 Source: EPO
New ways of working
The EPO has been an office-based organisation for nearly five decades, with staff working at one of the EPO's buildings, located in either Munich, Berlin, The Hague, Vienna or Brussels. However, when the COVID-19 pandemic struck in 2020, the need to socially distance demanded a fundamental change in how and where EPO staff carried out their duties. Teleworking swiftly became the default choice for almost all employees, who largely continued to work from home in 2021.
Aside from the obvious health and safety benefits of teleworking during a pandemic, another major advantage emerged. Two Office-wide surveys revealed that teleworking helped many staff achieve a better work-life balance and increased their sense of wellbeing by giving them greater flexibility and autonomy in structuring their time.
Thanks to the combination of staff commitment and advances in digital workflows, the quality of the EPO's services and products remained high, despite the sudden large-scale shift to teleworking. This positive feedback echoed that from previous teleworking schemes at the EPO. It also fundamentally challenged the widely and long-held view that the office is the only place where staff can work productively.
Figure 4: Facts and figures on new ways of working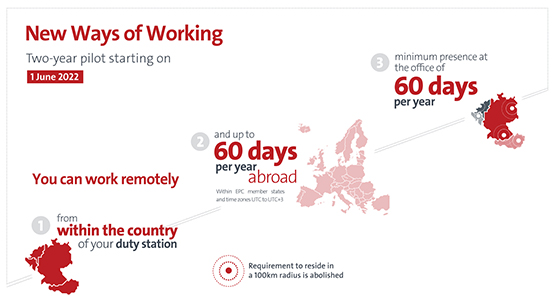 Source: EPO
As such, the EPO reached a critical juncture in its history in 2021. Beyond merely managing the pandemic, it started seizing the new opportunities created by a hybrid working environment. This was recognised in the EPO's strategic paper "Towards a new normal", published in June 2021 after endorsement by the European Patent Organisation's Administrative Council.
Drawing on a broad consultation process with stakeholders, the paper identified three prerequisites for success in a post-pandemic world: a new teleworking framework, an increasingly digital work environment and a revised building plan.
Professional mobility
Developing professional mobility is a cornerstone of goal 1 of the EPO's Strategic Plan 2023. Supporting employees who wish to change roles not only promotes upskilling, but also helps them realise their career aspirations, increasing both job satisfaction and engagement.
In 2021, the EPO continued to foster internal mobility, leading to 215 full job transfers. This figure included 73 examiners changing technical field via the EPO's internal digital talent marketplace, as well as 65 staff members who opted for partial job mobility by taking on new tasks in a different area for some of their working time.
Another pillar of mobility is the Pan-European Seal Professional Traineeship Programme, which aims to nurture the next generation of IP professionals across Europe. The EPO's framework for strategic co-operation with European universities and the European Union Intellectual Property Office aims to foster an awareness of IP's benefits among the best and brightest young minds.
In 2021, a record intake of 117 graduates of 27 different nationalities from 49 prestigious universities joined the programme. Female trainees accounted for 59% of the new cohort, the highest proportion of female PES participants to date, making a strong contribution to gender diversity. In view of the ongoing pandemic, trainees were onboarded remotely, with many continuing to work from their home country.
Figure 5: Pan-European Seal Programme 2021/2022 - key figures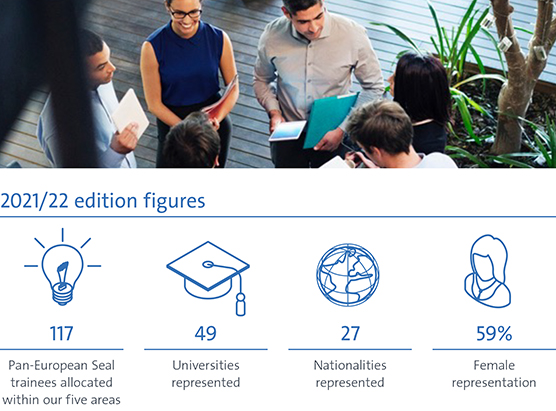 Source: EPO
By the end of 2021, the programme had attracted some 95 member universities spanning 35 member states of the European Patent Organisation and two extension states. Spread across Europe, these universities possess a track record for excellence in technical, science and engineering fields. In co-operation with the European Patent Academy, a more systematic, modular approach to teaching students about IP rights was developed.
Expanding the programme via new partnerships with leading technical universities and forging closer links with current member universities is an important step towards embedding IP in technical and scientific education curricula.
By giving young graduates a solid knowledge of IP protection and its economic added value, the EPO aims to help fast-track the commercialisation of research results. For the EPO, fostering the professional growth of young people is a matter of social responsibility. It is about investing in today's talent to build a brighter future.
Figure 6: Technical University of Munich becomes a member of the Pan-European Seal Programme

Source: EPO
Finance: going digital and raising awareness
The EPO is a financially independent institution and it has a responsibility to all stakeholders to ensure that its finances are sustainable. Among these stakeholders are the staff of the EPO, and their dependents - past, and present and future. The EPO believes that all staff members therefore share a sense of financial responsibility, not merely those in positions directly related to finance. Raising the awareness of finance across the Office was accordingly a top priority in 2021.
The Office reached an important milestone in the last quarter of 2021 with the launch of its financial effectiveness dashboard. This new monitoring tool summarises multiple key financial and operational figures on the Office's operations and puts them into context.
In other words, it paints the big picture of the Office's financial health in a way that is easy to understand. In that respect, the new financial effectiveness dashboard plays an important role in presenting an overview to staff of how the Office is faring financially.
By continuing the drive to digitalise more of its financial processes, the EPO took another major step towards greater transparency and efficiency in 2021. In addition to introducing a new e-signature tool in the procurement area, the EPO also rolled out a digital contract management process, e-invoicing and a new online supplier portal in 2021.
Beyond awareness-raising, creating a shared sense of responsibility for financial sustainability means giving non-experts a deeper understanding of finance. Throughout 2021, the EPO organised broad-ranging finance training modules, which were taken by hundreds of non-finance managers from across the organisation.
Figure 7: Finance manager team (left) and "Finance 360" programme manager (right)

Source: EPO
To complement this training, a new finance partners network was launched, along with an Office-wide community of practice. Bringing together financial experts and other key stakeholders from different areas of the organisation encourages closer collaboration across functions, securing the EPO's long-term financial sustainability on all fronts.
Finally, all payment methods accepted by the EPO were centralised in a central fee payment service in 2021, creating real value for users. More user-friendly than its predecessor, this new service offers a host of new features that also prevent double payments. The service will be further enhanced in 2022, with additional features like automatic debit orders.
Going forward, all these initiatives will contribute to stronger budgeting and financial decision-making processes across the Office.
Figure 8: Milestones delivered by "Finance 360" in 2021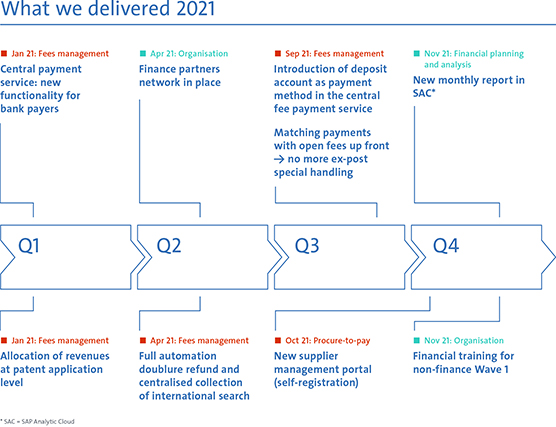 Source: EPO
Creating sustainable, multifunctional workspaces
The hybrid work model characterising the new normal calls for an entirely different on-site working environment. Beyond creative spaces for teamwork, our buildings must offer staff opportunities to connect and network, fostering the strong sense of community that is a cornerstone of the EPO's culture.
In June 2021, the Administrative Council endorsed the EPO's new building strategy to improve the sustainability of its buildings, while maintaining their real estate value and creating an energising working environment for staff.
Its new strategy will be implemented in a step-by-step approach, enabling the EPO to respond to further changes in the new ways of working. Two specific projects that will directly impact the working environment of staff were launched in 2021.
Isar daylight project
This renovation project aims to bring more daylight into the EPO headquarters, a grade-listed building located in the heart of Munich. Beyond forging a closer connection with one of the EPO's host cities, installing internal glass walls will also make staff working in the office feel more connected. Overall these changes help create a more energising and transparent workspace in which to foster collaboration and exchange.
Building works started in July 2021 and are proceeding as planned, despite difficulties arising from the worldwide shortage of raw materials. The project is scheduled for completion in August 2022.
Figure 9: Isar daylight project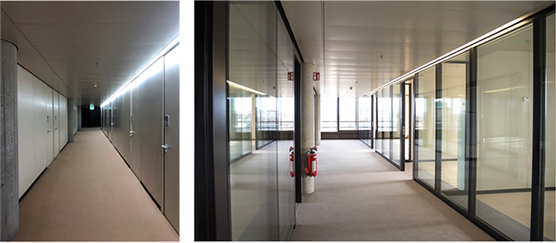 Source: EPO
Vienna green hub project
The EPO's office in Vienna is part of its heritage. However, according to a feasibility study conducted in 2019, its current building has reached the end of its operational lifetime. The study recommended completely redeveloping the site with a new building. Instead, the EPO has opted for a more sustainable approach of stripping the old building back to its original concrete skeleton and then reconstructing it.
In 2021, preparatory work started with the drafting of a concept design, which will guarantee the highest level ("outstanding") of BREEAM certification.[1] Thanks to an energy-saving design, the building will also be carbon-neutral throughout its life cycle.
Figure 10: Visual for the redeveloped Vienna building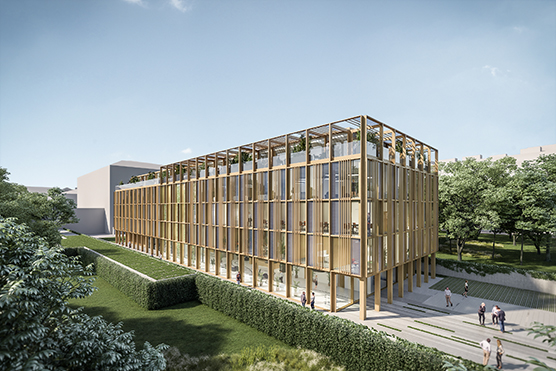 Source: EPO
A healthy, energising working environment is not only about the buildings themselves. During 2021, the EPO's fitness facilities in its Munich Isar building underwent a comprehensive renovation, ahead of the launch of a new fitness service in 2022.
---
[1]
An established method of assessing, rating and certifying the sustainability of buildings.
Diversity and inclusion
After an exceptionally challenging year in 2020, the EPO's efforts to foster diversity and inclusion in 2021 reflected its commitment to create a healthier, happier atmosphere for all staff.
In terms of promoting gender equality, 2021 was rich in events and initiatives. International Women's Day (IWD) on 8 March provided an excellent opportunity to explore the private and professional challenges faced by women during the pandemic. Women working at the EPO and female scientists in the world of innovation shared their experiences.
Figure 11: Panel discussion marking International Women's Day 2021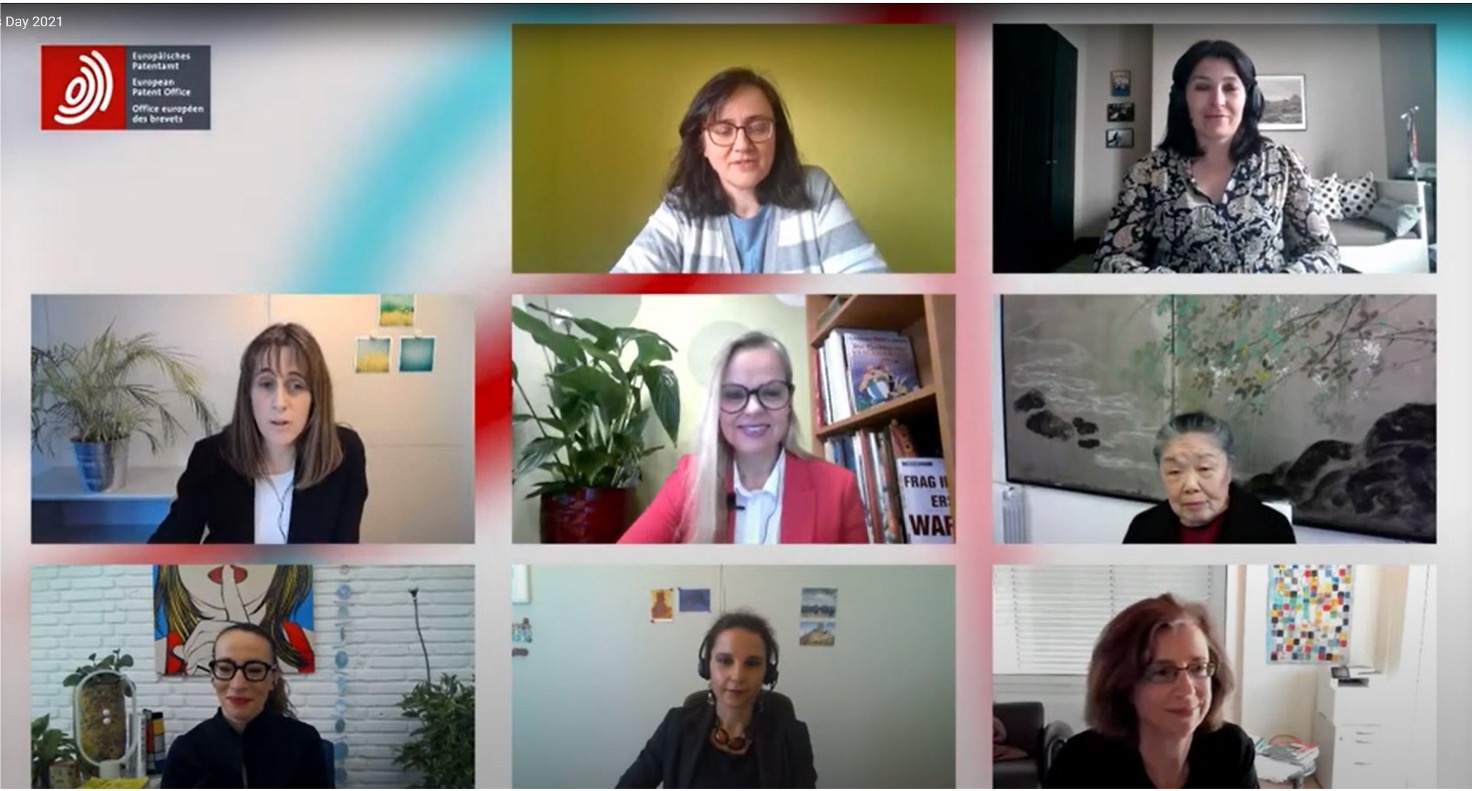 Source: EPO
On 15 and 22 April, the EPO also celebrated Girls' Day in both the Netherlands and Germany. Addressing the imbalance between the number of women and men working in the field of science, technology, engineering and mathematics ("STEM"), this global initiative is fully aligned with the EPO's goal of achieving gender equality and increasing the number of its female examiners over time.
Around 70 girls took part in this fully digital event that featured an interactive presentation of the Office's activities, with a particular focus on the patent granting process. Quizzes and exercises led by female examiners and online discussions with female executives led to stimulating discussions.
Celebrating diversity in another way, the Office also marked Munich Christopher Street Day and Amsterdam Pride week for the second year in a row by flying the rainbow flag. Beyond the gesture's symbolic value, raising the iconic rainbow flag reflects the values of pride, tolerance and harmony that the EPO strives to promote in the workplace.
Figure 12: Raising the rainbow flag at the EPO

Source: EPO
Designed to improve job market access for highly qualified students and recent graduates with disabilities and chronic illnesses, the EPO also hosted its third job-shadowing day in 2021. Five high-achieving, talented young people were invited to spend a typical working day at the EPO, gaining insight into nine business units across the Office.
On 3 December 2021, the EPO also marked the International Day of Persons with Disabilities. A special Communication Intelligence Network drop-in discussion was organised, where EPO staff with disabilities shared powerful personal testimonies and their experiences with colleagues.
Staff engagement
Strong employee engagement is crucial to the EPO's success and a key driver of its Strategic Plan 2023. With the confidence gained from coming through a crisis stronger, the EPO focused on shaping the new normal and securing its sustainability in 2021.
In 2020, engagement primarily came from staff collectively standing strong through the exceptionally difficult first phase of the pandemic. In 2021, the EPO seized the opportunities created by the crisis and built on the lessons learned.
Working remotely for a prolonged period of time promoted a deep desire in our staff for connection. Beyond the specific boundaries of the team, which provided an important anchor in 2020, the EPO saw a flourishing of peer-to-peer networks, communities of practices and knowledge sharing in 2021. The popularity of Communication Intelligence Network meetings also soared, effectively bringing together the wider EPO community online.
Figure 13: Communication Intelligence Network members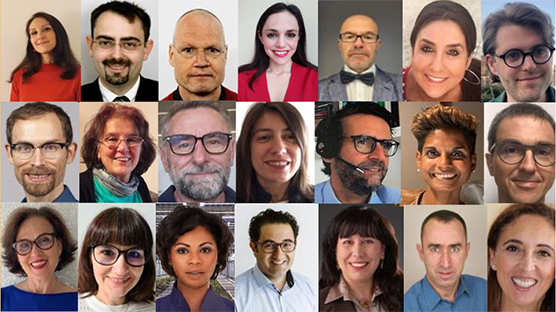 Source: EPO
A special network focused on engagement was also set up 2021, with a view to engaging in a wider conversation with staff and managers on why engagement matters and how it can be nurtured in a hybrid workplace. The group will seek to increase its outreach and establish itself as a community of practice in 2022, sharing its insight more widely.
Fostering social dialogue
Social dialogue with employees, staff representatives and unions remained of the utmost importance to the EPO in 2021. Reflecting its strategic relevance, the social dialogue secretariat moved to the President's Office in October 2021 to establish even closer links between the President and all stakeholders.
In 2021, the Office held over 90 meetings with the Central Staff Committee, local staff committees and other bodies, including staff representatives. A new best practice of exchanging views and key information in writing prior to meetings was introduced in 2021 to make discussions more productive.
To maintain personal contact with staff, the President took part in 70 team meetings with almost 800 staff members in 2021. In total, 4 137 staff members have now met with the President in small or one-on-one meetings since 2018. Such informal meetings constitute an invaluable channel of social dialogue in the Office. By providing specific insight into the impact of the pandemic and teleworking on staff, the feedback gained from these meetings helped the Office shape the new ways of working framework.
Figure 14: Direct exchanges between the President and social dialogue stakeholders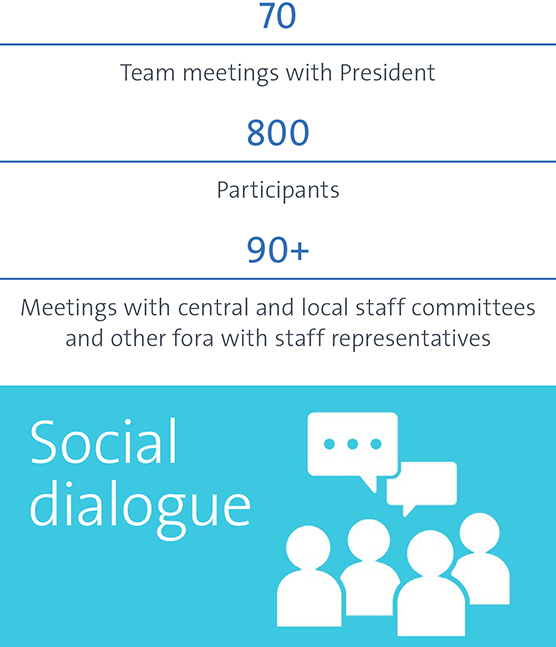 Source: EPO
The social dialogue agenda in 2021 was dominated by the new ways of working framework, reshaping the post-pandemic working environment, and the reform of the education and childcare support provided by the Office.
With the new ways of working, the Office aims to offer all staff greater flexibility in organising their work and striking a better work-life balance, while ensuring that the Office continues to deliver products and services of outstanding quality.
Working group discussions revealed that staff wish to retain the autonomy and digital workflows developed during the pandemic, while using the EPO buildings for specific activities. There was a general consensus among all social partners that the new teleworking framework must foster a sense of community.
An intensive consultation process with staff representatives lasted from early summer 2021 until the end of the year. In its revised proposal on new ways of working, the EPO accommodated a request by staff representatives to apply rules on flexitime to staff working both on-site and from home.
The EPO's education and childcare benefit scheme is a key component of its generous compensation package. Prior to the scheme's reform implemented in 2021, it differentiated between nationals of the site of employment and expats. To harmonise and distribute benefits more evenly, the Office decided to apply the same conditions to all staff. The reform was also designed to make the EPO's social benefits package even more attractive to prospective staff.
A new approach was discussed with staff representatives in a series of working group meetings that began in July 2020 and continued in 2021. Drawing on input from its staff representatives, the Office significantly modified its initial proposal. These changes included adjusted ceilings for international schools in Berlin and Vienna, as well as a lump sum for the young childcare allowance to accommodate specific aspects of the Dutch young childcare system.
The new, fairer scheme is designed to be easier to understand, access and administer. After its adoption by the Administrative Council in June 2021, an extensive internal information campaign was launched. EPO parents were offered the possibility to opt into the new scheme or benefit from transitional measures.
By the end of 2021, almost 70% of parents with children up to four years and 42% of parents with children in primary and secondary education - amounting to over 2 000 staff members - had opted into the new scheme.
In practice, this means that an additional 850 school children and 450 students now benefit from the childcare and educational allowance. Children of parents with the nationality of their country of employment also benefited from the new scheme immediately.
The Payroll Services team handled over 5 000 requests related to education and childcare matters in 2021. The EPO is now preparing to digitalise the reimbursement process for the education allowance to a greater extent to provide simpler, more efficient services for all parents.
Figure 15: Facts and figures on the educational and childcare reform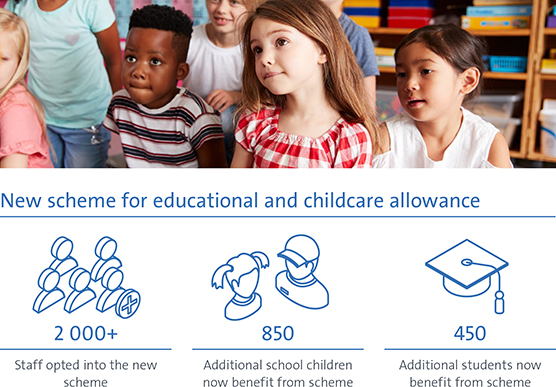 Source: EPO
To smooth the transition to the new scheme, the Office allowed staff to reverse their opt-in decisions once until the end of 2022. To avoid undue financial constraints on parents as a result of the new reimbursement system, the Office also contacted all major international schools at its sites to inform them of the new system.

The successful negotiation of a new system for schools to invoice parents allowed a seamless transition from the past direct billing system to the new reimbursement system. The Office continues to work closely with its Central and local staff committees to address all issues raised by individual staff members.
Like many other international organisations, the EPO recognises the Administrative Tribunal of the International Labour Organization (ILOAT) as its higher instance for employment law disputes. It implements ILOAT judgments in a timely manner, which is usually within one month of their rendering. This was achieved in nearly all cases handled in 2021. The Office publishes summaries of key decisions on its intranet after each Tribunal session to ensure that all staff understand the rulings.
At the ILOAT's 132nd session on 7 July 2021, it delivered five significant judgments on the importance of the "right to strike" regulation and set clear limitations to any rule or interpretation that could be seen as constraining it. Amongst other redresses, it invalidated the rules governing the exercise of the right to strike at the EPO and declared the rules prior to the 2013 reform applicable.
The Office moved swiftly to implement these judgments in a three-step process. Firstly, and within a month of the rulings being issued, the Office paid the relevant salary deductions and interest, together with moral damages and costs, to the eight complainants concerned by the judgment of 7 July. The second and third steps aimed to apply the outcome of the judgments to the other complaints and interventions pending at the time of the judgments' delivery, and to reimburse all other strikers. These steps were completed by the end of 2021.
Circular 347 and Communiqué 41 were also removed from the EPO's CODEX and intranet accordingly. In December 2021, the Administrative Council approved the proposal to amend its Service Regulations in line with the ILOAT judgments. In doing so, the Office addressed all consequences of the judgments for EPO staff at large - both in financial terms and from a regulatory standpoint