More value from quality audits
The EPO's Directorate Quality Audit (DQA) plays a vital role in monitoring the quality of its products and driving continuous improvement. In 2021, we continued to invest in our audit service by engaging in dialogue, conducting a higher number of detailed checks, providing more feedback and measuring its effectiveness.
By the end of 2021, the number of auditors working for Directorate Quality Audit (DQA) had more than doubled compared to September 2020, while the number of audited grants increased by over 14%.
To address feedback from the user satisfaction survey (USS) on improving completeness, correctness and consistency in a more targeted way, we also extended our search audit criteria as of 1 October 2021. In practice, this means that our search audit process now covers both the quality of the written opinion on the patentability of the invention and the search report (see below for more details).
From an excellent baseline, the agreement rate between the auditors and examining divisions improved further in 2021, reaching 96.3%. Directorate Quality Audit also intensified its audit dialogue with examiners by providing more granular feedback.
Audit findings were shared with examining divisions at quarterly deep-dive meetings with senior experts to discuss non-compliant files. Focusing on quality issues with files proved highly successful. Beyond highlighting the potential scope for harmonisation or training, it also fostered a better mutual understanding of high quality, leading to recommendations for targeted quality actions in specific areas.
Figure 24: Quality audits on grants - agreement rate between DQA and examining divisions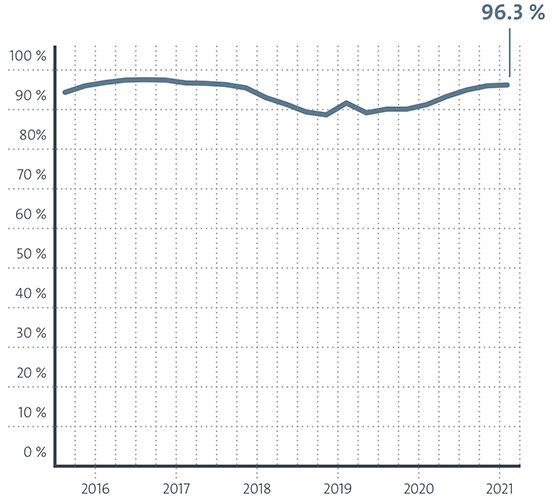 Source: EPO
Figure 25: Overview of audit dialogue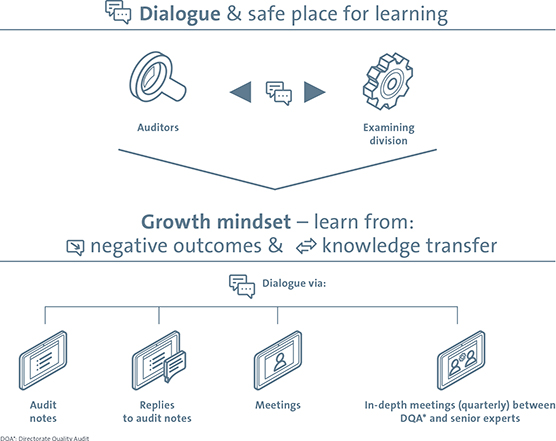 Source: EPO
Search quality audit
The EPO continues to excel in finding and citing the most relevant prior art in its search reports with a compliance rate ranging between 96.6% and 97.6% over the last three years. Nonetheless, we are also looking for ways to achieve even better results.
Feedback from our user satisfaction survey highlighted scope for improvement in the areas of completeness, correctness and consistency. In response to these survey results - and to address the discrepancy between search and grant audit results - we adopted tougher search audit criteria in 2021. Previously, our search audits had only looked at the search report but in October 2021, we extended these checks to cover the quality of the written opinion on the patentability of the invention.
A pilot tested the new checks on a sample of 85 searches and the accompanying written opinions in spring 2021. The three main causes of non-compliance were identified as invalid objections, more pertinent prior art found or missing objections.
As expected, these results point to a potential decrease in the compliance rate under the new, tougher audit criteria. However, we are confident that looking more closely at the written opinion will help us identify any quality issues earlier in the patent granting process, allowing us to deliver a better service to our applicants.
Figure 26: Search audit results
Source: EPO
Examination quality audit
In 2021, the compliance rate for granted patents reached 75.4%, some 20% below the figure for searches. This discrepancy was largely due to the use of very different criteria to measure quality at search and grant.
The search criteria emphasise the pertinence and relevance of prior-art documents found by the examiner, whereas the grant criteria check the compliance of the specification with the patentability requirements of the European Patent Convention.
Figure 27: Grant audit results (based on a 12-month rolling average)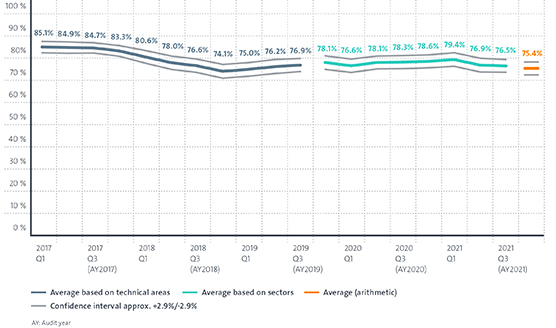 Source: EPO
Simplifying and streamlining workflows
When it comes to streamlining workflows, the EPO's experienced, ingenious staff are an invaluable source of ideas. In 2021, we conducted seven quality and operability studies to enhance our patent granting processes by leveraging their expertise.
Staff were encouraged to question every aspect of their workflows with a view to making them simpler and more efficient across the core business. Calls for contributions generated around 1 000 responses from 669 examiners, 250 formalities officers and examiners also participated in the brainstorming sessions. The suggestions were then analysed for developing actions, with a priority placed on non-IT-related improvements.
Several of the initiatives put forward by staff covered clearer, more structured examiner communications, early consultation with the search division and simplifying the formal aspects of the patent application procedure. Many were subsequently deployed as pilots in 2022.
Adopting a user-centric approach to quality
For the EPO, user feedback is the fast track to higher quality, which is why our user-centric approach to quality starts and ends with patent applicants. Listening to users and consolidating their feedback allows us to identify and prioritise improvements.
User satisfaction surveys (USS) are a valuable feedback channel, helping the EPO improve and tailor its products and services to meet users' needs. The methodology of our latest biennial survey was redesigned to broaden its scope. The changes introduced aim to ensure that users are asked the right questions on the topics that matter to them. The two-year cycle also gives us time to assess whether any improvements have a noticeable impact.
The latest survey cycle ran between September 2020 and April 2021. It showed consistently high satisfaction scores at all stages of the end-to-end user journey in the patent granting process. Notably, 88% of our users are satisfied or very satisfied with the EPO's final actions and publication.
Figure 28: Key figures from the EPO's latest user satisfaction survey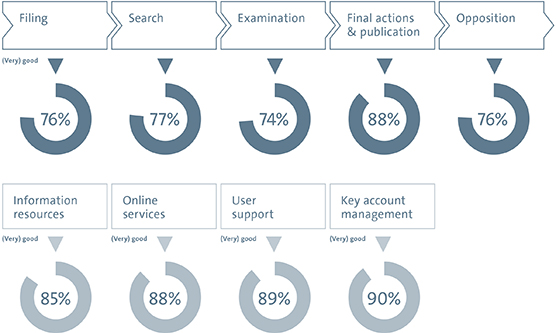 Source: Berent, EPO
The EPO's user-centric approach to quality is reflected in the new format of the Standing Advisory Committee before the EPO (SACEPO) Working Party on Quality. In 2021, the working party tripled in size to 75 IP experts from 48 countries. Organised into four geographical regions, the working party now covers nearly all countries with patenting activities and all technology fields. Consulting with a broad spectrum of users helps us ensure their diverse needs are fully reflected in any improvements.
A highly successful way of gathering structured feedback on substantive topics are the EPO's Stakeholder Quality Assurance Panels (SQAPs). These deep-dive online sessions bring patent experts from around the world together for frank discussions on European patents.
In 2021 the panels covered a diverse set of technology areas from health, chemistry, electronics and mechanics to digital and information communications. They were each led by two European patent attorneys nominated as assessors by the EPO, the epi and BusinessEurope.
In 2021, the 12 external assessors focused on inventive step (Art. 56 EPC) and clarity (Art. 84 EPC). Based on detailed reports prepared by the assessors, SACEPO members convened online in break-out workshops to critically analyse a series of European patents, discuss EPO practices and make suggestions for improvement.
The SQAPs gave EPO experts a deeper understanding of how our users perceive our work and what matters to them. Their feedback helped us set our 2022 quality priorities, which will focus on pilots for active search divisions, structured communications and optimised added-matter checks.
To ramp up direct exchanges with users, the EPO also organised 12 high-level meetings with major applicants from the IP5 region in 2021. These meetings focused on issues such as patent filing strategies and best practices, as well as selected topics related to the patent granting process.
The discussions generated valuable user feedback - at both strategic and operational levels - on the quality of incoming applications and collaboration during the various stages of the patent granting procedure such as oral proceedings in opposition.
The EPO's senior managers also met with three SMEs to discuss their needs with a view to improving the EPO's support and online services for smaller companies. An online account management event was also organised in 2021, attracting 143 participants.
Figure 29: User outreach in 2021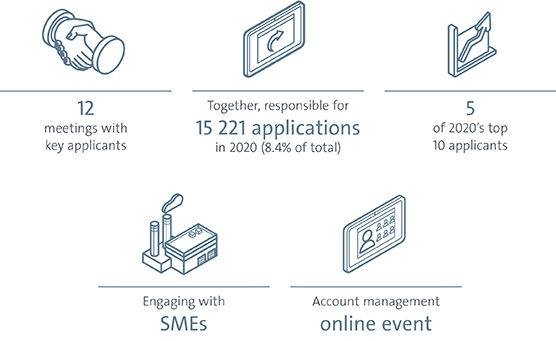 Source: EPO
Another highlight of 2021 was the EPO's annual User Day, a fully digital event attended by over 2 300 participants. The event covered the EPO's role in the race against the pandemic, headline trends in patenting, improvements to our electronic tools and changes in the pipeline for EPO users.
Figure 30: Panel discussion at EPO User Day 2021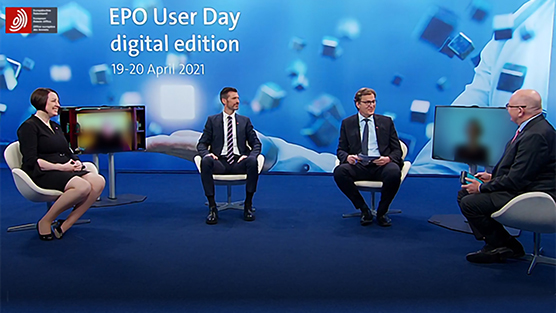 Source: EPO
Complaints are another form of user feedback and a valuable opportunity to correct any oversights. Most importantly, they enable us to identify areas where problems may be arising and address individual cases rapidly through close interaction with our users.
Complaints can be filed online or referred internally. In many cases, they are handled in consultation with the operational units concerned. In 2021, the EPO received 275 complaints (2020: 374), mainly addressing substantive or procedural issues.
In response to user requests for the EPO to separate feedback from complaints, its complaint handling system was migrated to a new customer service management (CSM) tool in 2021. A new channel for feedback submission was also set up.
Complaints are generally processed within 20 working days and exchanges between the EPO and the complainant are made available to the public. Feedback leads to internal analysis or follow-up, combined with input from other user feedback channels. For further details, see section 1.5 of the Quality Report 2021.
Quality – classification
The EPO's classification quality audit confirmed high levels of accuracy in classification in 2021. Over the last five years, conformity levels have ranged between 93% and 96%.
Figure 31: Five-year overview of classification conformity results (in percent)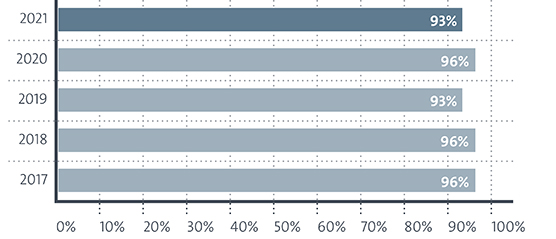 Source: EPO
Pre-classification
An AI-based pre-classification engine built in-house was launched in June 2021. In the second half of the year, it was used to allocate over 50 000 EP and PCT applications to EPO examiners. Since December, the service has been used to route files in all three official languages.
One of the main advantages of this in-house tool is that it can be fine-tuned to meet the EPO's business needs, giving it complete control over a crucial core activity. A first evaluation of routing by the tool indicated an increase in the quality of automatic pre-classification from 86% to 90% using the new service.
Classification
A range of actions were taken over the course of 2021 to improve the quality of the EPO's classification of prior art. They included a robust quality audit mechanism, coupled with improvements to document distribution, the handling of exceptions and the classification workload management interface.
In July 2021, a first version of a classification tool was integrated into the search platform ANSERA. The new tool allows examiners to classify their applications and documents found during the search. This marks the beginning of the integration of a full set of improved and new classification functionalities into the search environment. For an overview of the EPO's classification performance, see section 2. of the EPO's Quality Report 2021.
Reclassification
In January 2021, the first version of a new reclassification tool was released. This electronic assistant offers reclassification administrators and colleagues working on related projects support in managing and handling reclassification activities.
In particular, the tool has enabled "hybrid" reclassification projects, whereby part of the reclassification is performed by examiners before the remainder is sent to a reclassification contractor. In 2021, five such hybrid projects were handled via the tool, reducing contractor work by around 6 000 documents. To date, 12 reclassification projects have used the tool to reclassify 33 000 documents.
Cooperative Patent Classification (CPC) with the United States Patent and Trademark Office (USPTO)
Over the course of 2021, five batches of bilateral technical meetings were organised to harmonise classification procedures at the EPO and USPTO. These meetings aimed to establish common ground on classification practices, clarify the scope of classification groups, and work on CPC definitions.
To date, 183 CPC fields out of 650 have been covered. This, in turn, revealed opportunities to improve the scheme and definitions, leading to a total of 55 CPC revision projects. In 2021 the EPO and USPTO published an impressive 216 revision projects. Thanks to upgraded IT infrastructure for exchanging CPC data and loading it after reclassification, the goal of publishing revisions within nine months of their request is now within reach. A new collaborative environment (CE) platform was also launched in December to enhance work-sharing and information exchange between CPC offices. For more information on international CPC co-operation, see section 2.2 of the EPO's Quality Report 2021.
Timeliness
A key aspect of our performance and service quality is timeliness. In 2021, the percentage of products delivered on time for search and examination continued to rise. In parallel, the end-to-end processing time of a patent application fell across all EPO products. An application first filed at the EPO, for example, was granted within 43.3 months of filing in 2021, down from 44.8 months in 2020. The procedure for divisional applications was even swifter, with grants made within 31.8 months of filing in 2021.
Figure 32: An overview of timeliness achievements in 2021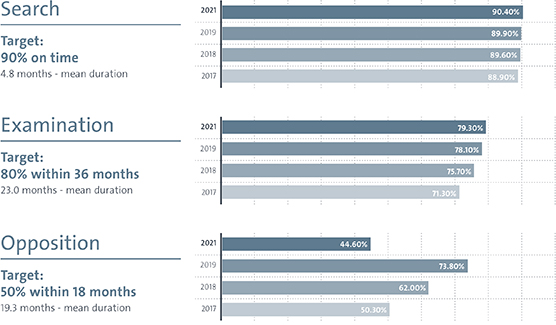 Source: EPO
In 2021, the EPO monitored, tracked and acted on old files at all stages of the patent granting process. In January 2018, 95% of our products were produced within 51 months of filing, where the target was either six months for EP or nine months for national or PCT searches. By the end of 2021, however, that figure had dropped to 8.7 months.
Search reports were established on average at 4.8 months from filing, marking a marginal increase versus 2020 (4.5 months). This result is thanks to a quality improvement initiative where the EPO is holding back on first filing searches until recently published documents have been fully classified. To ensure that the relevant prior art has been fully classified, no search is conducted before four months from priority.
In parallel, a review of internal limit dates for European first filings allowed us to increase their timeliness to almost 84% delivered on time within six months in 2021, up from 60% in 2020. With regard to our searches, 95% were sent to the applicant within 8.7 months of filing.
2021 also saw progress in tackling the remaining backlog of old examination files and addressing long delays between official communications in examination. As a result, 95% of examinations were conducted within around 61.3 months in 2021, versus 90 months in 2018.
Thanks to the success of these rejuvenating actions, only 15.7% of the files in our examination stock was older than three years by the end of 2021 (2020: 17.3%; 2019: 19.3%; and 2018: 24.2%). In other words, over 84% of the examination stock is constituted by files that can still be produced "on time". This is clearly good news for applicants seeking consistency of timeliness across the EPO's services.
Figure 33: Examination timeliness vs stock within 36-month target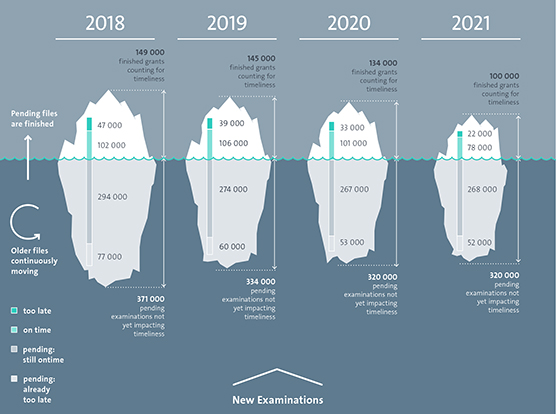 Source: EPO
2021 saw significant efforts to improve the consistency of our response time by decreasing the time pending since the last Office action. Thanks to highly effective collaboration across closely matched technical teams, the number of files waiting for over 20 months since the last action decreased by 7 500 over the course of 2021, with a hugely positive impact on service from a user perspective.
Finally, considerable efforts were made in the area of opposition to reduce the backlogs created in 2020, when the pandemic outbreak did not allow the EPO to organise in-person oral proceedings. The switch to online proceedings by default enabled the EPO to start getting timeliness back on track. It is currently working towards the target of bringing stock back down to its pre-pandemic levels by the end of 2022. In 2021, we finalised 660 more oppositions than before the pandemic and invested around 5 000 more days in opposition than planned. This led to a 19% reduction in the stock of opposition files compared to 2020, bringing the total down to 5 282, as shown in the bar chart below.
Figure 34: 2021 achievements in opposition - pending products vs plan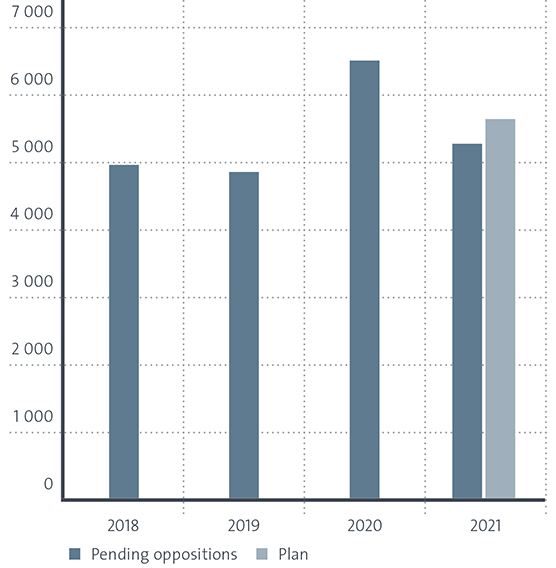 Source: EPO
Workload and performance
Incoming workload
Fluctuations in patent applications during the first part of 2021 justified the prudent approach to workload planning adopted by the EPO during the pandemic. Overall, however, patenting activity remained brisk in 2021.
The EPO received around 25 000 more search requests than expected (2020: -1%, 2019: +2%). This suggests that innovation and IP rights remain strategically important for the recovery of the European economy.
At the same time, applicants withdrew around 8 000 fewer applications than in 2020 and around 15 000 fewer compared to pre-pandemic levels. This suggests that the EPO's targeted efforts to process old files and rejuvenate our stock are paying off.
Globally, despite economic uncertainty, the European patent system remained attractive for users, with robust filings and maintenance of European patent applications seen in 2021.
Figure 35: Overview of patent application withdrawals (2018 - 2021)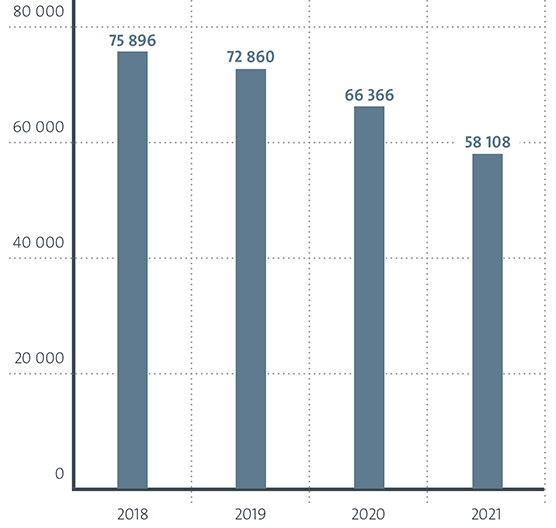 Source: EPO
Performance
The EPO produced a total of 363 452 products (search, examination and opposition) in 2021. It consistently followed a production scheme that prioritises searches, oppositions and accelerated examinations, processing non-accelerated examinations when capacity allows. After receiving more search requests than anticipated, the EPO naturally granted fewer patents than planned, leading to a lower number of publications.
A total of 108 799 patents were nevertheless published in 2021. The number of searches done, files entering examination and file stocks stabilised at healthy levels. In other words, the EPO managed a soft landing in terms of its output of published patents at relatively high levels compared to 2010.
The EPO continuously monitors its incoming workload and has enhanced its forecasting abilities. Thanks to job mobility and a proactive recruitment policy of building talent pipelines, the EPO ended the year in a strong position to mitigate fluctuations in its workload by recruiting more staff.
Figure 36: Trends in patent publications (2010-2021) and projections (2022-2026)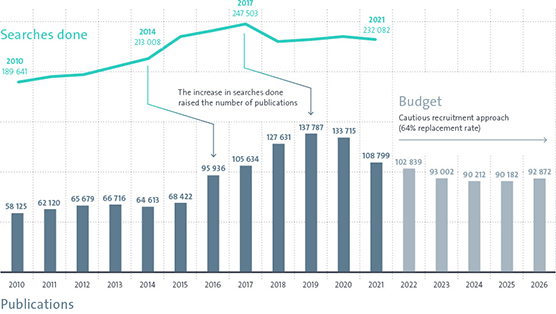 Source: EPO
More effective workload balancing
Launched in 2020, the digital file marketplace played a growing role in helping us manage our workload effectively in 2021. The number of internal file transfers increased by a healthy 50% from roughly 4 000 per month on average in 2020 to around 6 000 in 2021. Beyond helping the EPO adapt to workload fluctuations fast and effectively, the digital file marketplace bears witness to the new opportunities for closer collaboration and efficiency gains created by digitalisation in the EPO's core business.
In terms of talent management, it is complemented by the digital talent marketplace, which allowed the EPO to retrain and transfer almost 200 examiners by the end of 2021. In 2022, this platform will be further enhanced by the digital support marketplace, where available expertise will be connected to business needs, leveraging the latest developments in digital skills mapping (see "Develop talent" section of goal 1).
Building on the digital change seen in 2020, we also tested the feasibility of file allocation methods during 2021. The "pull allocation" allowed us to allocate close to 45 000 patent applications to examining divisions on a just-in-time basis in 2021. Based on past experience, we expect to deploy the first minimum viable products of a fully digital file allocation system supported by artificial intelligence in 2022.
Improving the EPO Guidelines revision cycle
A public user consultation aimed at all readers of the EPO Guidelines was first introduced in 2020 under the EPO's Strategic Plan 2023. Held in spring each year after a preview of the revised EPO Guidelines has been published, the consultation aims to gather feedback and suggestions for improvement.
The second public consultation took place in February 2021. Following discussions with the Standing Advisory Committee before the EPO (SACEPO) Working Party on Guidelines on 20 May 2021, 35% of almost 200 anonymised user comments received were adopted for the Guidelines for Examination in the EPO (EPC Guidelines) and the Guidelines for Search and Examination at the EPO as PCT Authority (PCT-EPO Guidelines) 2022. The Guidelines were finalised in a second meeting on 28 October 2021.
Figure 37: Overview of Guidelines revision cycle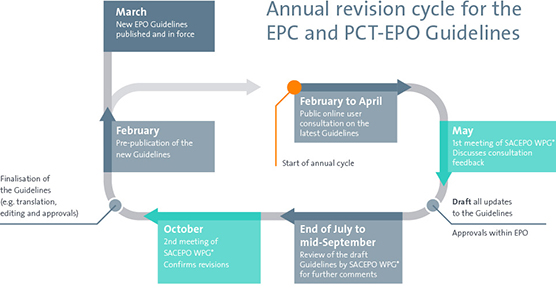 Source: EPO
Oral proceedings by videoconference
The Office swiftly expanded the use of videoconferencing technology in the wake of the pandemic in 2020. As of 1 January 2021, procedural rules entered into force (OJ EPO 2020, A132), clarifying the possibility of taking evidence by videoconference (VICO).
The process of making oral proceedings future-proof was further reinforced by the Enlarged Board of Appeal's decision G 1/21, confirming that holding oral proceedings by VICO complies with Articles 113 and 116 EPC.
Figure 38: Overview of oral proceedings in opposition in 2020 and 2021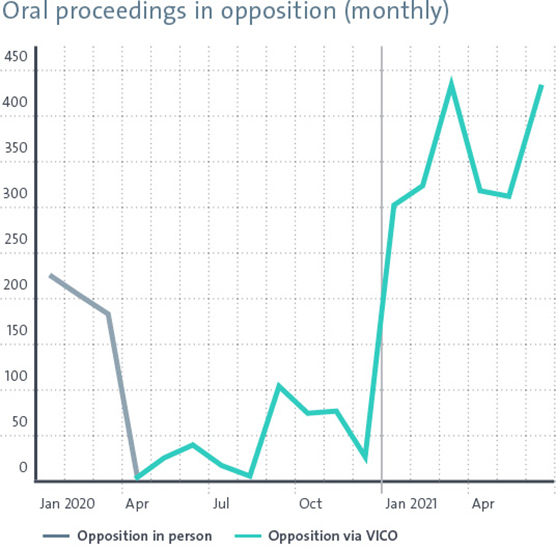 Source: EPO
In September 2021, the Office conducted a month-long user survey on the pilot project for oral proceedings by VICO in opposition. The survey attracted many responses, with over three quarters of the 700 respondents having already participated in at least one instance of oral proceedings in opposition via VICO.
Their feedback was very encouraging. Two thirds of respondents assessed the provision of oral proceedings in opposition by VICO to be good or very good, while less than 20% expressed a negative opinion. Building on continuous improvements and dialogue with our stakeholders, the EPO is resolved to make videoconferencing the optimal platform for oral proceedings in examination and opposition.
Outlook for 2022: reorganising the EPO's core business
To reflect recent developments in the technology landscape, the EPO restructured its core business as of 1 April 2022.
Our patent examining activities, formerly split into three sectors, will be reorganised into eight technology communities. At an operational level, this move aims to further break down any silos, making it easier to improve consistency and timeliness across the board in response to user feedback. In addition, five new horizontal principal directorates have been implemented to help achieve a joined-up approach on strategic priorities.
Looking at the bigger picture, the restructuring is also about truly embedding sustainability in the mindset of all EPO staff. Granting patents has always contributed to a more sustainable world by promoting innovation. Restructuring our core business into technology communities will help us focus on that mission.
By underlining the EPO's contribution to addressing the major challenges facing society, closer alignment with the EU's industrial ecosystems and the UN Sustainable Development Goals will also give our staff an even greater sense of purpose.
Figure 39: Restructuring of core business highlighting EPO's contribution to society and industry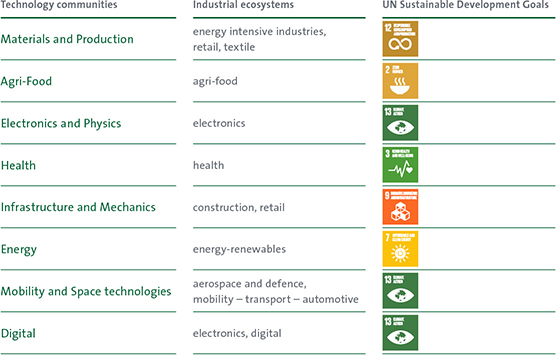 Source: EPO