The pandemic that swept the world in 2020 has had a dramatic impact on all aspects of the economy. Transport and tourism have suffered due to lockdowns, whereas digital industries have been central to the transition to online working. Most startling of all, however, has been the strong performance last year in medical technologies, pharmaceuticals and biotechnology. In a year when many technical fields declined in terms of European patent applications, these three fields bucked the trend and posted growth of +2.6%, +10.2% and +6.3% respectively. Just these three technical fields together comprise some 16.7% of all patent applications to the EPO in 2020. Major crises, such as conflict or climate change, have often been spurs for innovation, and inventors' response to COVID-19 shows this yet again.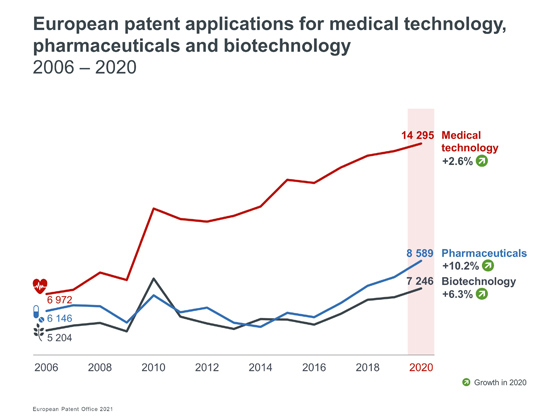 The relationship between these three fields has a long history. With an increasing and aging population, as well as modernisation of national healthcare systems, investment continues to grow in research and development (R&D). Technology now gives us multiple ways to detect, fight or even prevent disease. Healthcare is no longer just about medicines and vaccines (i.e. the pharmaceutical sector). Advances in diagnostic devices like X-ray machines and MRI scanners, as well as prosthetic implants and surgical tools, has led to a boom in patenting in the field of medical technology. Biotechnology completes this trio, from the manufacture of genetic tests to predict disease to therapies which "switch off" genes known to trigger disease.
Medical technologies in the lead
Even if patent applications are an imprecise metric for R&D, it still seems that investments have been flowing into medical and diagnostic equipment for years. This field has seen an inexorable rise in the technology rankings for filings to the EPO, from #4 in 2006 to #1 in 2010 - holding that top spot every year since, except in 2019 when it was narrowly beaten into second place by digital communication. In many cases the route to market for a device is shorter and simpler than for a medicine or vaccine. This goes some way to explain why healthcare companies might prefer to invent devices, equipment and tools to detect or prevent disease rather than pharmaceuticals to cure them.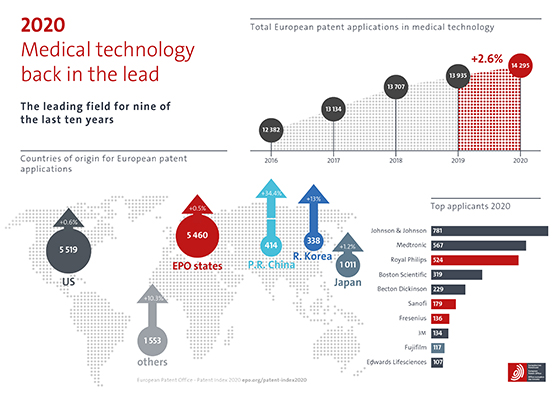 In 2020 US companies were just in the lead, with 38.6% of all filings to the EPO; European companies filed 38.2%. Within Europe (+0.5% overall on 2019), several major countries posted a decline in filings, which makes France, by contrast, stand out as the growth champion (+17.5% to 677 filings). Big growth, albeit from relatively lower filing volumes, was posted by South Korea (+13.0% to 338 filings) and China (+34.4% to 414 filings).
In the age of coronavirus, medical technologies have captured the public imagination like never before. Ventilators and respirators have saved thousands of lives amongst the critically ill. Officials at airports and other public places use contactless infra-red thermometers to screen crowds of visitors; simple non-invasive fingertip sensors now easily alert patients to any dangerous drop in their blood-oxygen levels. Clinical devices, often "smart" and connected to digital networks, are becoming "everyday". In the coming years we can expect to see such technologies become integrated into smartphones and wearables - just as satellite navigation apps are replacing stand-alone devices.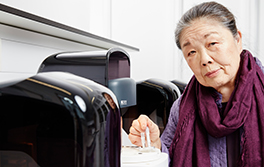 Helen Lee won the European Inventor Award in 2016 for her rapid blood diagnostic device. In 2020 she adapted her technology to detect SARS-CoV-2, the novel coronavirus that causes COVID-19. Her company, Diagnostics for the Real World, was spun out from Cambridge University in 2003.
Pharmaceuticals - the growth champion in 2020
In the leading technology fields, patent applications to the EPO for pharmaceuticals clearly stand out for the greatest growth, of 10.2% on 2019. European companies were just in the lead, with 41.8%, and US companies with 39.1% of all filings to the EPO. Within Europe (+15.0% overall on 2019), the growth champions were companies from France (+21.8% to 575 filings), the Netherlands (+14.9% to 232 filings) and Germany (+8.0% to 631 filings).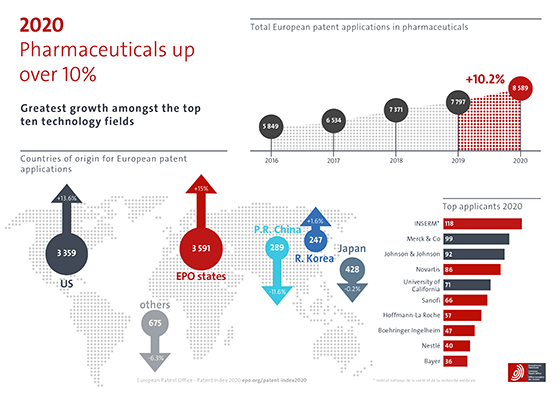 Amongst the leading applicants to the EPO in 2020 for patents for e.g. therapeutics and vaccines were a French public research organisation (PRO) at #1 with 118 filings, and a US university at #5 with 71 filings. Further down the rankings many PROs and universities are to be seen as applicants, as well as small and medium-sized enterprises (SMEs) which are often spin-offs from such institutions.
The role of universities and PROs, as well as of SMEs, should not be underestimated in the innovation landscape. Amongst European applicants to the EPO in 2020 in all technologies, over a quarter came from such sources (5% from universities and PROs; 21% from SMEs). When we focus too much on the rankings of "Top applicants" it is easy to overlook the vast majority of "smaller applicants" - in reality 99% of applicants to the EPO in 2020 filed fewer than fifty patent applications each, even if the other 1% were responsible for half of all filings.
Most universities or PROs or start-ups lack the resources to fund costly clinical trials or to build manufacturing facilities. This is why technology partnerships with so-called "big pharma" are essential to get brilliant research out of the laboratory and onto the market where it can benefit millions of people. To secure such knowledge transfer deals, as well as to secure the necessary investments, patents play a central role - for many researchers they are their principle or sole asset.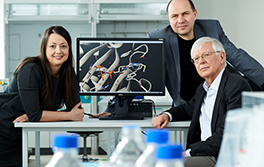 Polish bio-organic chemists Joanna Kowalska, Edward Darżynkiewicz and Jacek Jemielity (l-r) from the University of Warsaw, were finalists in the European Inventor Award in 2018 for their invention to stabilise mRNA, providing a "platform technology" for a variety of genetic therapies. To conduct clinical trials they went into partnership with BioNTech in 2008, and 7-8 years later the technology was licensed to e.g. Sanofi and Roche Group's Genentech.
Innovative vaccine technologies have been well represented amongst the patent filings to the EPO, with over 150 per year in the period 2011 to 2016, rising to over 240 in 2020. This shows that this well-established sector was already thriving with new ideas, and also explains how hundreds of research teams around the world were able to respond to the challenge to develop new vaccines against the novel coronavirus. In the coming years we should see an increase in filings in this area as interest and efforts intensify.
Biotechnology - the rise of Asia
In the last decade it has been remarkable how the rapid increase in patent filings to the EPO from companies in South Korea and China has been, for the most part, narrowly confined to digital communication and computer technology. Last year saw big relative increases in patent applications for biotechnological inventions developed by companies in Japan (+18.0%), South Korea (+31.5%) and China (+75.4%). To keep this in perspective, however, the increase from China was equal in absolute terms to that of the EPO states (+4.5%), just over 150 patent applications. Nevertheless a boom in biotechnology from Asian companies could be seen in the coming decade, to match their prowess in the digital revolution.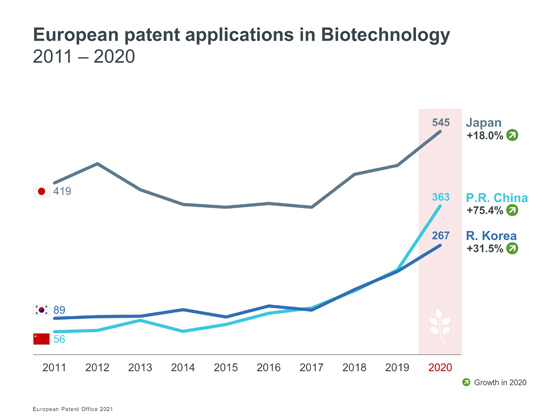 Overall, biotechnology patent applications grew by 6.3% on 2019, the second biggest growth for any of the leading technology fields. European companies lead with 47.3% of all filings to the EPO, with US companies' share on 31.4%. Within Europe (+4.5% overall on 2019), the growth champions were companies from Germany (+9.4% to 814 filings), Switzerland (+14.3% to 521 filings) and United Kingdom (+19.4% to 344 filings).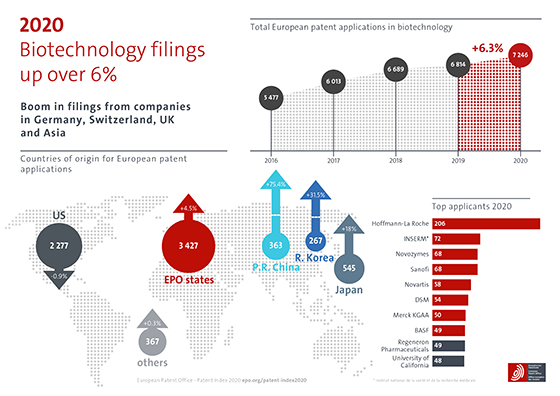 The most active area is biotechnology directed towards medical or clinical uses (so-called "red" biotech); but there are other important applications for biotechnology in e.g. agriculture ("green"), marine science ("blue") and industrial processes ("white"). Like any other technology, inventions here are deserving of patent protection if they are new and inventive. Patent protection encourages investments to be made by affording time-limited exclusive rights to the invention. The technical details of the inventions are published in public patent databases for other researchers to study and build-upon. The patent system is one of the most powerful knowledge transfer tools anywhere.
Dutch immunologist Hans Clevers was a finalist in the European Inventor Award in 2017 for his "organoids" - tissues derived from stem cells that can be used to screen for drug efficacy. In 2020 he applied his knowledge to investigate how the coronavirus attacks the lungs and other organs, teaming up with other scientists along the way. Professor Clevers works at the Hubrecht Institute and University of Utrecht.