Patent applications to the EPO are on the rise again, reaching a record 188 600 in 2021. This headline number conceals a complex picture of patent applicants from many countries, active in a variety of technologies and of different sizes.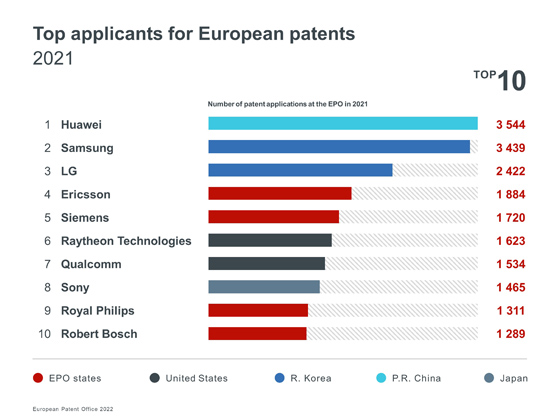 Click to enlarge

The ranking of our top applicants inevitably focuses on some of the best known global brands in technology and engineering. However, this distorts our perception of who is innovating because the profile of our applicants is far from uniform. Our leading applicants file hundreds of patent applications each year, seeking to protect their European markets. One quarter of all applications to the EPO were submitted by our Top 50 applicants alone, and roughly one third by our Top 100. The remainder came from the other 39 000 applicants, many of whom are SMEs, lone inventors, universities or public research organisations; about two thirds of this group filed just one application at the EPO last year. These applicants - the overlooked majority - are the fertile ground in the innovation landscape. Looking specifically at those applicants based in Europe (contributing 44% of total filings to the EPO in 2021), we see that a majority (59%) are SMEs, individual inventors, universities or public research organisations, even if they contribute only 25% of the applications to the EPO.
Shares in applications from Europe


Case study: Carmen Hijosa, textile designer and entrepreneur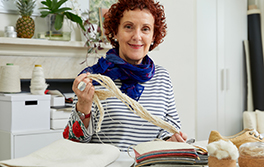 Carmen Hijosa is the inventor of an attractive, hardwearing and versatile material made from pineapple leaf fibres that would otherwise be waste. Her vegan alternative to leather, Piñatex®, is used by over 3 000 brands to make shoes, jackets and handbags. Employing ten staff in London, her company works with factories in Spain and the Philippines, where it also supports hundreds of families in a pineapple-growing collective. A finalist in the European Inventor Award 2021 in the category SMEs, she exemplifies the vast majority of our applicants. Dr Hijosa has two European patents (granted in 2018 and 2021), both stemming from a single international patent application filed in 2011.
From around the world
Patent protection in many markets can be expensive. A good way to defer costs and keep options open for 30 months is to file a patent application via the World Intellectual Property Organization (WIPO) under the Patent Cooperation Treaty (PCT). This route is so popular that some 61.0% of applications to the EPO arrived by this means in 2021, up from 57.5% in 2012. The high quality of the EPO's search services makes it the most popular International Searching Authority in the world, with around 29% of global demand.
The rise of China
The number of patent applications to the EPO from China has seen astonishing growth over the last decade - more than quadrupling, in fact. Last year alone, applications from Chinese companies increased by 24.0% compared to 2020. This demonstrates not just the extensive investments being made in R&D but also the attractiveness of Europe as a market for innovative technologies from China. The growth far exceeds that from South Korea (up around two thirds over a decade) or Japan (which has been broadly stable for a decade).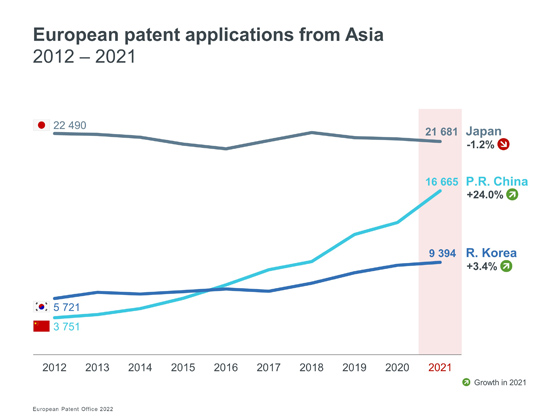 Click to enlarge

Whilst applications to the EPO from Chinese companies have boomed over the last decade, the relative share from European applicants has been decreasing, although their applications have risen in absolute terms (up 14.5% over the decade). The share for US companies has remained fairly stable.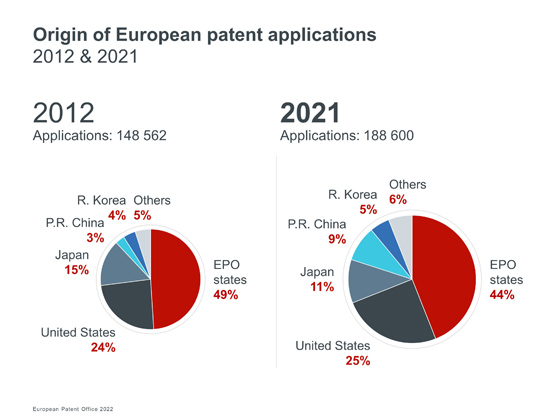 Click to enlarge

Nonetheless, the surge in patent applications to the EPO from China is not the whole story. On closer inspection, we find a heavy bias towards digital technologies, electrical engineering and batteries. In 2021, almost half of the 16 665 applications from Chinese companies were in just three of 35 technology fields - digital communication (4 462; 26.8%), computer technology (2 240; 13.4%) and electrical machinery, apparatus and energy (1 366; 8.2%). By comparison, Chinese companies are hardly active in many other technology fields - such as pharmaceuticals, chemistry, engineering and transport - where European and US companies dominate.
Top 10 technology fields and leading countries of origin for filings to the EPO in 2021

The role of women
Recent investigations by the EPO show that for applications filed in 2021, with at least one inventor based in Europe, roughly 20-21% named one or more women as inventors. This is an improvement on estimates for 1990 (barely 7%) but still a long way short of parity. Our full study, providing more granular information by technology field, and benchmarking Europe against the US and Asia, will be published later this summer [Update: study now published.]
But why is this so? Marginally more women (53.7%) than men are in tertiary education (bachelor's, master's or PhD degrees) in the EU-27 (according to Eurostat); and in the US, more women have been graduating with PhDs than men for over a decade. Therefore, if women's academic attainment equals or exceeds that of men, what explains the difference between the sexes when it comes to inventing? Too few women pursue "technical" careers because not enough girls study science, technology, engineering and mathematics (STEM) subjects at school or university. Many women take up science subjects like archaeology, astronomy, psychology, sociology - all expanding human knowledge. But these subjects rarely lead to technical inventions, unlike physics, chemistry or engineering for example. A brilliant astronomer might use a new telescope to discover a distant galaxy or conceive a new cosmic theory. They would publish academic papers, but not patents, because discoveries and theories per se are not patentable, as per Article 52(2)(a) EPC, even though the engineer who designed, built and patented the new telescope could be named as its inventor.
Case study: Ursula Keller - leading laser scientist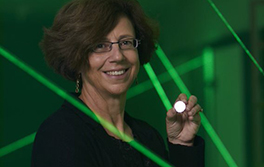 Ursula Keller has pioneered some of the greatest advances in ultrafast lasers, winning numerous awards and founding two companies. Her childhood dyslexia drove her away from words and towards numbers. She defied convention and expectations, taking up maths and physics at school, earning a scholarship at Stanford University, California and ultimately working at the prestigious AT&T Bell Laboratories in New Jersey, USA.
As she accepted the European Inventor Award for Lifetime achievement in 2018, Professor Keller implored us all to do more to encourage girls in science. She said: "There are very many women who are good in everything, but then society pushes them away from science and - you know - you miss out. You really miss out! I had the greatest life!"
At the EPO, we can only agree!