Welcome to the city of the future, home of smart urban mobility – arriving sooner than you might imagine. The latest technology automatically maps every aspect of your route. Your vehicle continuously learns about your needs, meeting them swiftly, safely, sustainably and in the utmost comfort. Innovation is transforming urban mobility and advancing the ACES model: automated, connected, electric, shared. This trend quickly becomes apparent when delving deeper into four of the top five technology fields in the Patent Index 2021.
The latest developments in the two fastest growing fields are having a major impact. Digital communication (+9.4%) is where much of the innovation is taking place to support 5G implementation. These innovations enable your vehicle to connect to other vehicles (referred to as V2V), pedestrians (V2P) and even smart infrastructure (V2I) - in short, to pretty much everything (V2X), including your phone and all manner of services, whether for work or entertainment. Meanwhile, innovation in the field of computer technology (+9.7%) is enabling artificial intelligence (AI) to aid real-time processing of the huge amounts of data that connected vehicles generate.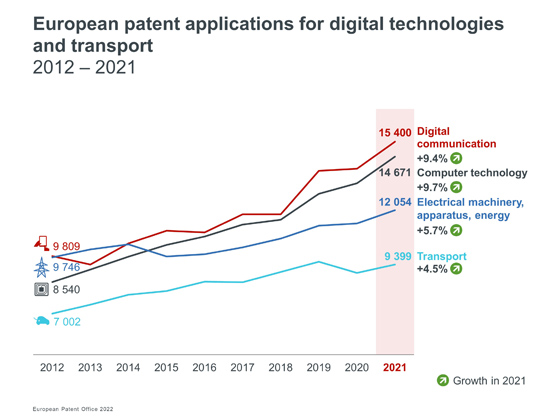 Click to enlarge

In terms of countries of origin, in 2021, China edged just slightly ahead in the three-way race with the US and Europe in digital communication filings. The US accounted for the majority of computer technology fillings, with Europe not far behind.
As for increasing demand for electric vehicles and better batteries, this is reflected by some of the latest advances in electrical machinery, apparatus, energy (+5.7%), fourth among the top technology fields. Fifth is transport (+4.5%) itself, where the bloc of EPO member states accounted for well over half of all filings and where applicants specialising in information and communication technologies (ICT) are increasingly competing, or partnering, with traditional automotive manufacturers and suppliers.
Overall growth in transport was mainly driven by the rebound of innovation in the aviation sector to pre-pandemic levels, as the race for green aviation intensified (e.g. cleaner fuels, improved aircraft design). However, an analysis of vehicles in general shows that the rise of hybrid and electric vehicles has also clearly contributed to growth, in some cases reversing earlier trends. When, for example, the price of oil plunged from over $120 per barrel to barely half that towards the end of 2014, incentives to develop new electric motors waned. Patent applications relating to electric propulsion technologies then dropped steeply from 2015 to 2017.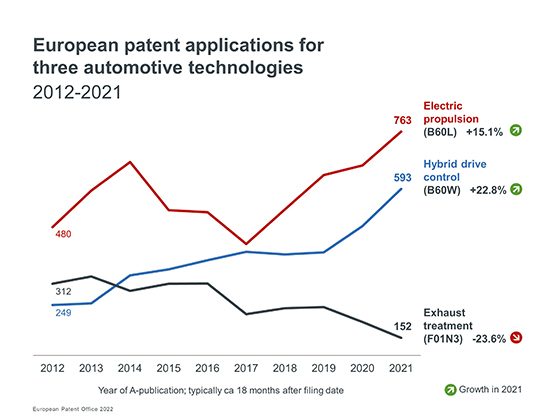 Click to enlarge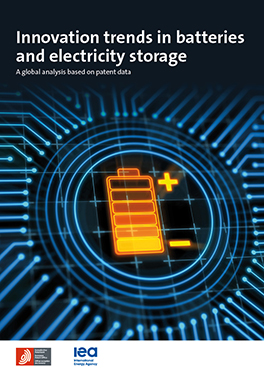 In line with the goals of the 2015 Paris Climate Accords and the European Green Deal of 2020, more and more commitments have since been made to phase out internal combustion engines (ICEs). As the decarbonisation of mobility advances, filings relating to both electric and hybrid vehicle technologies have increased. Meanwhile, the number of patent applications in classic areas linked to ICEs, such as exhaust treatments, have fallen substantially. These technology trends are covered in greater depth in the 2020 joint study conducted by the EPO and the International Energy Agency, entitled Innovation in batteries and electricity storage.
Securing a smart environment for connected vehicles
It has been just over a decade since the notion of a "smartphone on wheels" was first entertained at the level of a new concept car. Smart urban mobility now looks likely to contribute significantly to the 29 billion devices or more estimated to be connected to Internet Protocol networks across the globe by next year. That is when machine-to-machine (M2M) connections are expected to account for half of all global data connections.
To put the transformation of the technology landscape into perspective, it is worth remembering that global patent filings for technologies involving smart connected objects grew at an average annual rate of almost 20% between 2010 and 2018 - nearly five times faster than the average of all technology fields. In the field of transport, the rise of ICT applicants and the increase in ICT-related filings are becoming more pronounced as the means for vehicle-to-everything (V2X) communication is integrated into the foundations for intelligent infrastructure and smart roads. The real-time generation and processing of data support the sharing of all vehicles, not just cars, and the smarter use of resources, for example. Meanwhile, smart logistics is making on-demand delivery of goods safer and supply chains more sustainable, too, as the Internet of Things (IoT) expands.
A hacker-proof environment is therefore essential for the real-time processing of data and the optimisation of new transportation networks and economies of mobility. Hence the importance of cryptography for vehicles, a key area of technology that will help make V2X communication more secure and where filings have increased five-fold since 2014.
Vehicle handling
Every aspect of your vehicle is fine-tuned to make your journey smoother and safer, from the suspension to parking assistance. To this end, and in the pursuit of the fully automated vehicle, ICT is increasingly being built into every aspect of cars, including areas of vehicle handling such as steering and braking. When V2V and V2I communication capabilities are integrated with an advanced driver assistant system (ADAS), for example, a vehicle could take control of the brakes and/or steering to avoid a collision if the driver fails to react in time.
Case study: Advanced driver assistance systems (ADAS)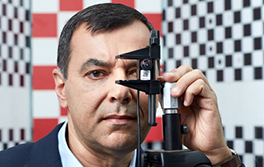 One of the aims of more advanced automation is greater safety. Amnon Shashua and his team were finalists in the European Inventor Award in 2019. Shashua's company Mobileye in Israel began life as a garage start-up. It was acquired in 2017 by Intel for what was then a record EUR 13.5 billion. Mobileye developed an advanced driver assistance system that uses a single-lens camera and cutting-edge AI to spot and avoid traffic hazards in real time. The technology is now installed in over 60 million cars around the world.
Everything's mapped out for you
The mapping of the immediate surroundings of a smart vehicle is becoming increasingly sophisticated too. The combination of pattern recognition and machine learning with the latest camera and sensor technology is being continuously refined for the purposes of object and road recognition. This is another area in which traditional automotive manufacturers remain strong and suppliers are branching out, while a new generation of companies such as Mobileye and Waymo, Google's autonomous driving subsidiary, build a significant presence.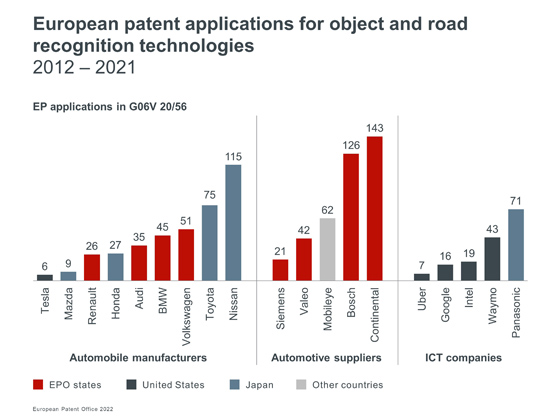 Click to enlarge

Meanwhile, not only do intelligent navigation systems plan your route, they also inform you about the level of connectivity along the way. In the future, they are expected to provide prompts for handing control of the vehicle back to the driver in areas where autonomous driving is not (yet) supported. Thanks to their use of point clouds, today's high-definition maps enable more accurate vehicle localisation than GPS.
Further, app-based solutions allow requesters and providers of mobility to interact more and more: to define suitable pick-up and drop-off locations, aggregate passengers or combine different modes of transportation. Once again, the prospect of automated, connected and shared vehicles seems firmly within reach.
Case study: Robot taxis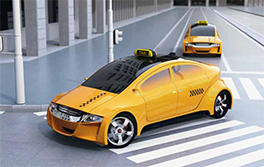 Robot taxis, also called cyber vehicles, are self-driving taxis or shuttles that have enormous potential to shape the future of mobility. They are expected to promote shared mobility as well as reduce congestion and energy consumption. Novel data management systems are being developed to fully integrate the taxis with digital and physical infrastructures. To find out more about this case study and many of the other topics covered in this feature, see the EPO's 2018 study entitled Patents and self-driving vehicles.
Smart logistics
A further area enabled by V2X communication that looks set to shape the urban environment is smart logistics. This subfield brings many common aspects of smart urban mobility into play, ranging from traffic control systems for road vehicles and automated parking to on-road recharging and smart grids in transport.
Semi-autonomous truck platoons, for example, are expected to be able to cross Europe soon, with fully autonomous platoons envisaged for the near future. Solutions that cover the last few miles to delivery at your door are still being explored. Automated urban and residential delivery robots based on micro-mobility technology may now look more realistic than flying drones for local deliveries.
Personalised light and micro-mobility
Rather not take the car? A range of lighter vehicles offer various alternatives. Electric motorbikes and Segways peaked in 2018, making way for step scooters to re-emerge as the most intense area of micro-mobility innovation after e-bikes in 2021.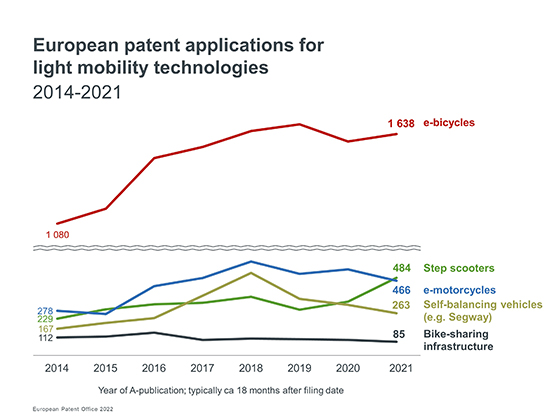 Click to enlarge

Case study: ABS for e-bikes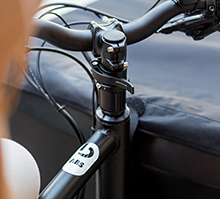 The market for e-bikes is booming, not least because of new smart mobility needs triggered by the COVID-19 pandemic. As e-bikes achieve higher speeds, cyclists can take comfort in battery packs' ability to power safer cycling. This is especially true when it comes to heavier but increasingly popular cargo bikes like the one pictured here. Enter Blubrake, the innovative e-bike antilock braking system (ABS). Sensing devices and actuators enable the wheel to read the road and send a signal to an AI-powered system. This, in turn, sends controlled instructions to the braking unit.
The successful combination of these technologies was enabled by a research team at the Politecnico di Milano and e-Novia, a deep-tech company creator. Find out more about their recent collaboration in our tech transfer study on Blubrake and related podcast.
Outlook
Since around 2007, more than half of the world's population has lived in cities. It is predicted that, by 2050, more than two thirds of us will live in urban areas. We will need smart urban mobility more than ever in the decades to come. As new inventions leave the laboratory and hit the streets, smart urban mobility could increasingly help to achieve UN Sustainable Development Goal 11: to make cities and human settlements inclusive, safe, resilient and sustainable. Right now, the vast majority of vehicles spend most of their lifecycle parked. When scrapped, their engines are likely to have run for just one fifth of their useful life. The hope is that increasingly autonomous, connected, electric and shared vehicles can help secure a brighter future in smart urban environments.