Patent Grant Process
This programme will progressively digitalise our back-office for the patent grant process (PGP). Essentially, it will drive the transition to fully electronic workflows for filing, file distribution, stock management, search, examination, opposition and appeal, as well as post-grant procedures. Building on the work done under Goal 3 to radically simplify our procedures, we will create a modern digital environment for the end-to end PGP.
This programme will deliver huge benefits in terms of improving quality and timeliness; cutting costs and paper usage; and enhancing services for both internal and external users. In 2019 design-thinking workshops were organised to gain a user centric view of the needs to be addressed. We also launched a series of activities, including a paperless search workflow pilot, to simplify formalities processes and harness the power of examiner innovations.
Search
This programme prepares search for the future. Prior art management will provide higher quality data, search tools will converge into one main search platform and data enrichment will move us closer to a semi-automatic search.
 
Data captured by the new search platform will also give us deeper insights into the search process and form the basis for future artificial intelligence (AI)-based assistance to help examiners find the most relevant documents quickly and easily. The EPO will continue to increase examiner access to non-patent literature (NPL) and non-native (i.e. Asian) prior art.

This new search platform will enable a more harmonised approach to searching, while still offering the flexibility to support examiner-led innovation. It will strongly promote collaborative working, while encouraging examiners to share knowledge, concepts and search strategies.

In 2019, progress was made in three key areas:

Citations retrieval from national files: examiners can now obtain citations from national files (from France, Italy, Netherlands, Belgium, Luxembourg, United Kingdom), as well as extracting them from EP and PCT files. This enhances the value of citations and provides a rich source for other tools. All third party observations and filings in opposition are now directly available to examiners too.
Centralising data: in terms of data enrichment, we improved our management of citation and full-text (published and un-published) data by centralising storage in a unique database to improve its overall value. For patent literature, we also developed an automated enrichment solution, using natural language processing and based on adding annotations. In the future this solution will be used to promote the more widespread and extensive use of annotations (e.g. for chemical entity and physical quantity).
Improving ANSERA: a growing number of examiners are now using this tool, which was enhanced with non-patent literature in mid-2019. By leveraging a network of ANSERA experts across all directorates, BIT developed and refined several new features (e.g. highlighters, improvements to the viewer) via a series of pilots. Ramping up training initiatives immediately led to a 20% increase in citations from ANSERA.
Artificial intelligence and blockchain
With this programme the EPO will apply artificial intelligence (AI) and blockchain technologies to increase the efficiency and quality of its products and services. The programme marks a major step towards tomorrow's data-driven and fully digitalised EPO.
In 2019 we produced a programme roadmap targeting multiple areas within the EPO where AI can help to deliver significant efficiency and quality gains via natural language processing, computer vision, machine translation, examiner and applicant assistant functions and blockchain.

New online user engagement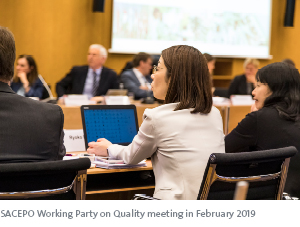 This programme will enhance the EPO's online interaction with users to increase their satisfaction with our products and services. It features a set of eight projects ranging from enhanced customer relationship management to a relaunch of the EPO's website (epo.org) with high-impact web analytics to facilitate continuous improvement. The programme will also provide users with an upgraded range of online services related to the patent grant process, including a new electronic filing process, an expanded user area, electronic communications and portfolio management. The key elements of this programme were presented and discussed at the 5th meeting of the SACEPO Working Party on the e-Patent-Process (SACEPO/ePP) on 5 February 2020.
Digital administration
The digital administration programme will modernise corporate services across the office using standard market solutions delivered through and with off-the-shelf functionality. By harnessing synergies between solutions, we will simplify and support digital workflows between organisational entities, while avoiding obsolescence and harmonising our IT landscape.
 
In 2019 the programme delivered several improvements in terms of software upgrades (migration to Windows 10, Office 365, Chrome), extending WiFi to all EPO buildings (to be completed in 2020), upgrading the technology of several EPO websites (pensioners website, IP5, national offices centre, etc.) and increasing the automatic recognition of vendor invoices. In terms of vendor management, a new software acquisition channel was set up to consolidate key IT contracts.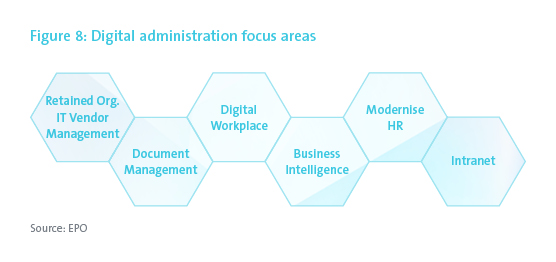 Strengthening IT security
To ramp up the EPO's response to growing cyber risks, the "Strengthen information security" programme will deliver improved protection from threats and attacks. In November 2019, we successfully headed off a cyberattack against one of our key IT subcontractors by ensuring business continuity and avoiding any spread to our infrastructure, as well as updating and upgrading protection mechanisms. As 2019 drew to a close, we focused on finalising our new IT security programme by clearly defining our objectives, key outputs and benefits, which resulted in a detailed roadmap and milestones.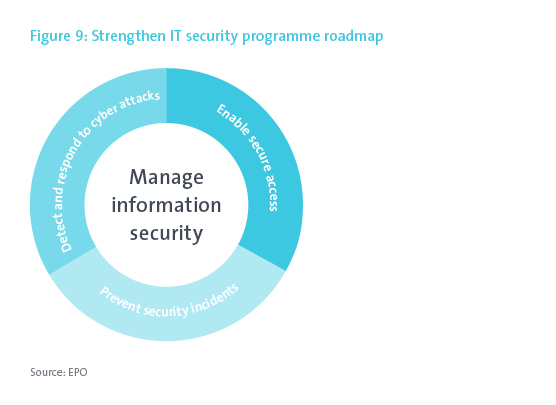 Infrastructure
The infrastructure programme is the key to improving the availability of our IT systems and delivering the infrastructure (data centres, hardware and architectures) needed to implement a fully digital, end-to-end grant process. It will enable the EPO to introduce enhancements to existing tools, develop common tools with national patent offices (NPOs), and continue to invest in corporate solutions and digital workplace capabilities.
By the end of 2019 the first network equipment and racks were installed in our new data centre in Luxembourg. We also completed our mainframe asset verification and cataloguing, giving us a comprehensive overview of our legacy, allowing us to successfully execute the first pilot processes on a new test platform.