Workload and production
The EPO's workload continued to increase steadily in 2019. We received 181 406 European patent applications, up 4.0% from 2018, with +3.3% growth in PCT applications and +4.9% growth in direct EP applications. In terms of our total incoming search, examination and opposition workload, these figures represent an overall increase of +2.1% versus 2018. The EPO received 243 338 search requests (+2.4%) in 2019, as well as 166 282 requests for European examination (+1.6%).
Examiner output reached 421 250 search, examination and opposition products, or +4 250 products higher than forecast. Total output nevertheless dipped slightly compared to 2018 (- 2.1%), due to our smaller workforce (-67 examiners) in 2019.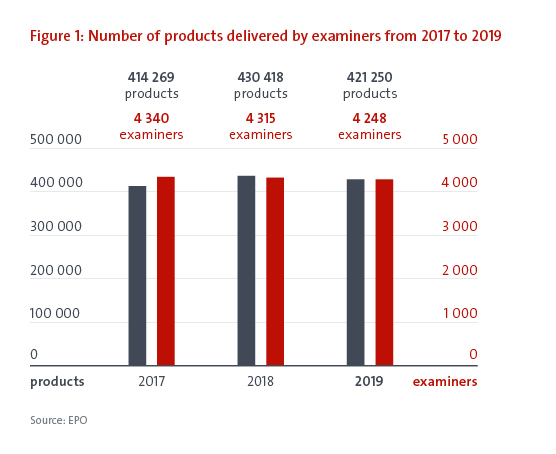 Our pending workload at the end of 2019 represented 11.4 months of work (2018: 12.0 months) and overall stock levels continued to fall, ending the year -7% lower than in 2018. Our examination stock (82% of total stock) ended the year -10% lower than in 2018.
Our opposition workload, representing 15.4 months of work, is very close to our target stock level of 15 months. This suggests that we are on track to achieve our opposition timeliness objective in the near future.
In 2019 the EPO published 137 787 European patents, +8% compared to the same period in 2018 and well above our 125 000 target. Based on an expected decline in the number of patent publications in the mid-term, we continue to reduce our examination backlog and balance examiner capacity to match incoming workload forecasts.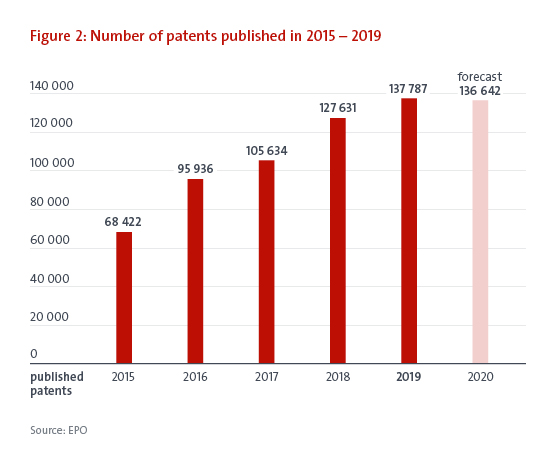 Timeliness
Opposition timeliness improved clearly in 2019. The mean time for an opposition division to issue its decision was 18.7 months from the expiry of the opposition period.
Longer-term improvements can be also expected in examination as we further reduce our backlog. In 2019 the mean time for issuing notification of the intention to grant was 28.1 months from the valid examination request.
As for search timeliness, our efforts since launching Early Certainty from Search in 2014 have led to steady improvements and this is now well under control.
In 2019, the mean time for a search completion at the EPO was 5.5 months from the date of receipt of the file the timeliness1 of our different search products can be broken down as:
PCT searches (where the EPO is the international search authority (ISA)): 2.9 months
Euro-PCT bis searches (where the EPO was not the ISA): 10.8 months2
National searches: 4.2 months.
With the advent of the various timeliness improvements, a review was conducted in 2019 to look at how the EPO could best define its targets and report on timeliness performance from the perspective of the user as of 2020. Mean measurements will thus be complemented by percentage on time measurements in the future.
1
These are mean values from the date of receipt to the final search report, as opposed to the median values quoted in our 2018 Annual Report. For more detailed information on this change in our reporting method, please see the "timeliness" section of the Quality report 2019.
2
Such searches cannot be started until (i) the applicants submits an amended set of documents, (ii) waives the right to do so, or (iii) the 6-month period as stipulated by Rule 161(2) EPC expires.