The EPO maintains the world's largest documentation with databases comprising some 1.5 billion records, 65 million records of Asian patent literature, 3.9 million standards documents and over 10 000 academic journal titles. In 2019, we invested a significant number of manhours in classification to make relevant prior art easier to retrieve. Thanks to that investment and our staff's efforts, we managed to significantly reduce our classification backlogs for published documents. This represented a first major milestone in the "Mastering the Prior Art" programme.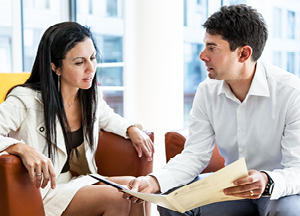 Collaboration is inherent in the division of three examiners set out in the EPC. It makes the EPO unique and is the cornerstone of our high-quality of our products and services. To enhance collaboration in 2019, we launched a "collaborative quality improvements" (CQI) pilot involving 450 examiners who performed around 7 700 consultations. This highly successful pilot increased our quality levels in 28% of files. It also enhanced knowledge sharing, increased job satisfaction and forged a far stronger sense of shared responsibility within the participating divisions and teams. Other knowledge sharing network events organised in 2019 included 80 learning sessions initiated by the transformation of Conformity Assurance for Search and Examination (CASE). Our examiners and formalities officers also continued to receive training in new technologies and ensuring harmonised approaches and best practices to achieve predictable outcomes.
To monitor the quality delivered by our formalities officers ("OQC-FO"), we applied the "quality circles" approach in 2019. This revealed that over 94% of files conform with search, examination and opposition processes. The introduction of operational quality control for opposition (Oppo-OQC) also indicated high levels of conformity, with a compliance rate of 96%. Going forward, we will develop an opposition quality indicator reflecting adherence to fairness, predictability and correctness based on the appeal outcome.
The quality of our grants as measured by the Quality Audit directorate remains our key benchmark for tracking improvements. By the end of 2019 we achieved a quality level of 78.1%, which is in line with a long-term upwards trend. We also took a fresh look at our approach to setting quality objectives with a view to highlighting excellence, confirming compliance and indicating areas in which action is needed. The effectiveness of our Quality Management System (QMS) last year was confirmed by external auditors during the regular ISO 9001 surveillance audit in October.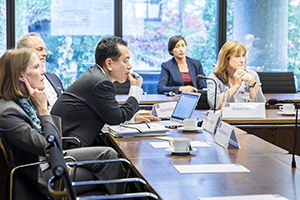 In 2019 the EPO continued to forge closer ties with its users. To direct our improvement efforts towards better meeting their needs, we adopted a more consultative approach. This included outreach to and from users in Europe and IP5 countries through several technical missions and our Praktika Extern scheme.
The "Partnership for Quality" meetings were another platform for meaningful exchanges with user representatives from the IP5 regions. Topics like quality management, guidelines, search and examination practices and opposition procedures and decisions were all discussed at these meetings. User associations also participated very actively in the Office's consultations, reflecting their commitment to enhanced dialogue.
The SACEPO working party on quality expanded to include more participants from both European and IP5 user associations last year and now takes place biannually. The format includes deep dive workshops on aspects relating to both procedure and substance. The meeting in October 2019 was the first to include active contributions from experts reporting on their impression of the quality of our files.
The extensive feedback from that meeting was analysed to derive quality factors, which will form the basis of a project to achieve a common definition of quality. This definition will enable us to ensure that our practices and procedures meet the needs of all our stakeholders. We also gathered valuable user input at that meeting, which has informed a new, tailored and user centric approach to conducting our biennial User Satisfaction Surveys that will be adopted in 2020.
A number of programmes focusing on timeliness, quality oversight, prompt and accurate prior art classification, simplifying our procedures and reaching out to innovation were launched in 2019. These programmes will translate our commitment to excellence into real, substantive actions.
The "Future of EPO timeliness" programme will offer EPO applicants a more flexible patent grant process. Our goal is to improve the predictability of EPO interactions for European patent system users by consistently delivering products in the expected timeframe. 

In 2019 we revised our timeliness objectives for 2020 and adopted a more user-centric perspective. This will ensure that the new "percentage on time" indicators accurately reflect the service that we provide to our users. Our high-level objectives will be cascaded down to directorate, team and even individual level in 2020. Examiners will also be able to see their own contribution to their team timeliness objective in a personalised digital dashboard. 

In 2019 the focus of our examiner communications shifted away from lists of objections and towards providing more constructive support for applicants in the patent grant process (PGP). Thanks to advances in technology, we are steadily abandoning written exchanges in favour of direct interactions using videoconferencing in many cases. In 2019 we also launched several pilot projects on fully digitalising our examiner tools to go paperless in search and examination. Initial feedback from these pilots was very positive.

In a bid to simplify and streamline the EPO's fees, we introduced a revised schedule of administrative fees and expenses on 1 April 2019. Some of the administrative fees were grouped together under the same code, while others were abolished as they had become obsolete. Last year also saw further progress towards simpler, harmonised procedures for registering procedural data and updating information to be published in the European Patent Register. We introduced new forms and standardised procedures for recording the transfer of rights and name changes of the parties and their representatives.

A new programme under SP2023 on mastering the prior art was launched towards the end of 2019. The programme will focus on further enhancing the quality of all classification-related tools and processes. By harnessing the power of artificial intelligence (AI), it will help examiners and other parties to master soaring volumes of prior art. Through closer co-operation with other national patent offices, we will also promote widespread use of the CPC, with a view to making it the global reference system for classification. In 2019 we continued to upgrade our classification tools in line with our strategic objective of reducing our classification backlogs to zero.
Quality has always been a defining feature of the EPO's products and services. Achieving excellence, however, means constantly striving to do better. Towards the end of 2019, we started to evolve our approach to quality with the launch of an ambitious "Commitment to quality" programme (see Figure 10 below) under SP2023.
By adopting a user-centric approach to quality, this programme will forge a common understanding of what quality means and how we can improve it. Bringing a user perspective to bear on the quality of our products and working hand in hand with stakeholders will take quality to even higher levels. From an operational standpoint, this programme will also focus on fostering closer collaboration among our examiners, encouraging more effective communication, promoting continual learning, optimising oversight and enhancing our use of business intelligence.