Access to patent information
After intensive user consultations and testing, an enriched version of our Espacenet patent search service was launched in November 2019. This marked a major step towards making our patent information more accessible to users. Espacenet features over 110 million patent documents from all over the world and access is free. The latest version offers some advanced functions, including:
A dynamic query builder for easier searching;
A richer, cleaner result list;
An improved legal status overview covering the entire patent family;
A responsive design to facilitate searching from different devices.
In 2019 we also launched our new SP2023 programme: "From patent information to IP knowledge." Our goal is to take users on a journey starting at patent information and ending with in-depth IP knowledge, so they can take informed IP-related decisions with confidence at every step of the way.
This programme will seek to reinforce the EPO's position as a major patent information provider by making our information easier to access (including simplified licencing conditions), expanding our supply of high-quality data for users, and enhancing links with legal status and other relevant information.
 
Building on our experience with the federated register and global dossier, this programme will expand our model of interoperable and decentralised services to other areas like court decisions in member states. It will also upgrade our patent information tools, make our data more relevant and enhance our data distribution policy.

Enhancing co-operation
All of our co-operation activities aim to maximise the impact of EPO actions. Effective co-ordination with other IP offices, international organisations and with EU institutions will enable us to avoid any duplication of efforts.

In May 2019 we renewed our memorandum of understanding (MoU) with the EUIPO and drafted our first detailed work plan. The EPO and EUIPO are working together to foster a holistic approach to IP education and awareness for the benefit of stakeholders.

The EPO also extended its administrative arrangement with the EU Community Plant Variety Office (CPVO) for another three years until 2022. Under this agreement, the EPO and the CPVO enhanced their bilateral co-operation and information exchanges with a view to supporting innovation in the plant sector. Co-operation was extended to include joint training initiatives for the public and offering our member states access to CPVO documentation on plant varieties through EPOQUE Net as of 1 July 2019.

The EPO also continued to co-operate closely with the European Commission in 2019 to inform and support the policy-making process. Our aim is to provide a framework for this co-operation to reap the benefits of synergies between SP2023 and the European Commission's work programme. Several high-level and operational meetings were also held with EU representatives to define the scope of our renewed, impact-driven collaboration.

At a global level, the EPO successfully implemented a new, extensive work plan with WIPO in 2019. The plan covers classification, PCT, data exchange, and training of patent examiners and aims to enhance the international patent system and promote European practices worldwide. Last year the EPO also set up a network with other international organisations based in The Hague to exchange operational experiences and best practices.
Strengthening the EPN: knowledge
The 2019 PATLIB Summit bringing together experts in commercialising innovation, representatives from technology transfer centres, patent offices and PATLIB centres and academics took place in May in Porto, Portugal. The event culminated in the finalisation of the "Porto Paper", which outlines clear recommendations to boost the EPO's support of the PATLIB network. It defines the service portfolios that a PATLIB centre must offer to qualify at a specific level, as well as a learning and continuous development package for patent information centres and their staff.

At the end of October 2019 the EPO patent information conference (EPOPIC) also took place in Bucharest. Exchanges among expert patent searchers, patent office experts, commercial providers of patent information and patent database developers focused on emerging trends in technology and business.

Last year our candidate support programme (CSP) once again sponsored candidates from member states with a low number of qualified patent professionals to prepare for the European qualifying examination (EQE). A total of 24 new students enrolled for the academic year 2019/20, bringing the total accepted on the CSP to 177 to date.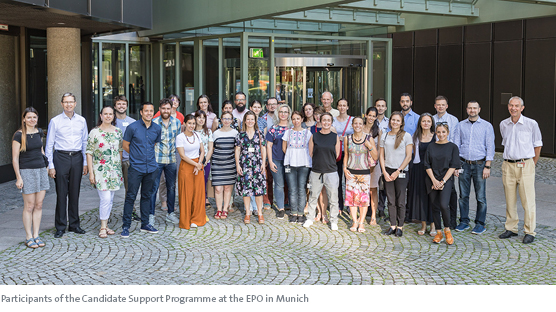 In 2019, the Office edited several studies on the patent landscape in several technology areas in the public eye today, namely: graphene, quantum technology, distributed ledger technology and cancer immunotherapy. These landscape studies were published online. Marking a first for the EPO, the study on cancer immunotherapy was also published in the peer-reviewed journal "Nature."

Lastly, we also launched a number of projects and activities under SP2023 in 2019, that will be conducted in co-operation with the national offices in our member states. They include the launch of PATLIB 2.0, a new e-learning centre, certification for paralegals, and technology transfer and capacity building at national offices.

Strengthening the EPN: convergence
Applicants seeking patent protection in Europe face a barrage of diverging practices before national patent offices and the EPO. This makes the European patent system complex, costly and creates a heavy administrative burden, particularly for SMEs. In 2019 we launched a new SP2023 programme focusing on the convergence of practices and aimed at minimising or eradicating differences where possible.

Greater convergence will generate cost savings for applicants and free up resources that can be invested in R&D and patent protection. Harmonised practices will also make it easier for SMEs to seek patent protection and upscale their national activities to a European level and facilitate the use of earlier searches. This, in turn, will enhance work sharing between the EPO and national offices and positively impact knowledge co-operation.

The programme will cover areas such as examination of unity of invention, designation of the inventor, accordance of priority date, re-establishment of rights, claim drafting and structure, and examination practices for computer-implemented inventions and artificial intelligence.
Strengthening the EPN: IT co-operation
At their Kilkenny Annual meeting in April 2019 the EPO and the national offices of its member states commenced discussions on potential IT co-operation projects. The EPO conducted its first round of technical visits to national offices between July and September 2019. These visits gave us a detailed picture of the local situations and the needs of our respective member states to be addressed via enhanced IT co-operation.
 
During roundtable sessions at the 86th meeting of the TOSC in November 2019, the following list of 7 initial projects was prioritised, discussed and recommended:
Front office: to deliver a system supporting national patent filings
Data quality: to revisit electronic channels for data exchanges with national offices
Search: to improve the service offered by existing EPO search tools
Quality management and process mapping: to contribute to the specification of new tools and propose quality indicators
Modular back office: to create a network to support the national development of back offices
CPC classification: to improve support to CPC offices for classification, reclassification and conversions from/to IPC
Single access portal: to offer a single point of access to all EPO/national office matters and deduplicating existing platforms.
These recommendations were welcomed by member states and fully endorsed at the Administrative Council meeting in December 2019. Going forward, the IT co-operation programme  aims to deliver incremental improvements to the existing services used by national offices via a new, joint creation mechanism, as well as the modular provision of new tools and IT infrastructure.
Expanding our geographical outreach
The EPO is constantly expanding its geographical coverage and influence through validation agreements, reinforced partnerships and technical co-operation with IP offices worldwide. Since the adoption of SP2023 in June 2019, our geographical coverage has grown sharply. In 2019 the EPO signed a validation agreement with Georgia and seven reinforced partnership agreements with Ethiopia, Argentina, Malaysia, Mexico, Indonesia, Brazil and ARIPO, bringing the potential coverage of our products and services up to 1.9 billion inhabitants across 38 member states, two extension states, four validation states and eight reinforced partnerships.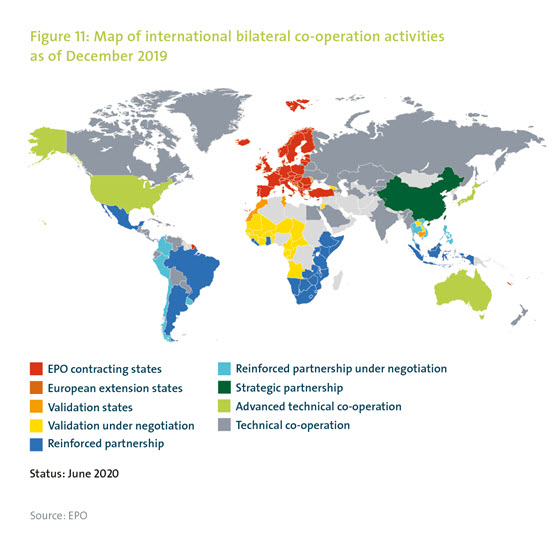 Last year we also launched a SP2023 programme to further develop, reinforce and leverage our three-tier co-operation policy framework in a structured, effective manner. The programme's key objectives are to:
Boost our effectiveness in implementing existing and future co-operation initiatives
Secure new partnerships, with a special focus on validation agreements and reinforced partnerships
Maximise our ability to expand the EPO's sphere of influence via the worldwide dissemination and adoption of EPO tools, quality standards and best practices
Increase the EPO's attractiveness as a patent-granting authority.
Fostering multilateral co-operation
The EPO's multilateral co-operation activities aim to improve the global patent system by promoting technical and procedural convergence between the world's major IP offices. We aim to seek joint responses to global challenges through trilateral (EPO, JPO, USPTO) and IP5 co-operation (CNIPA, EPO, JPO, KIPO, USPTO). Closer alignment with the ID5 (designs) and TM5 (trade marks) co-operation frameworks will help advocate a strong pro-IP agenda and improve outreach to stakeholders.

Convergence of practices between IP offices will bring significant gains in the quality and validity of patents, as well as in the predictability of the legal process. In 2019 we successfully concluded a first round of harmonisation efforts in the areas of unity of invention, citation of prior art and written description/sufficiency of disclosure. The project on unity of invention (led by the EPO and CNIPA) highlighted scope for significant improvements in the way offices raise non-unity objections to enhance transparency and predictability for users. The new approach to convergence will be built upon and be aligned with the results achieved in the convergence of practices programme with our member-states.
 
In June 2019, the IP5 offices agreed to advance their co-operation in the area of new emerging technologies and AI. Created at the initiative of the EPO, a new interdisciplinary IP5 task force is exploring the legal, technical and policy aspects of new emerging technologies and AI. The taskforce will pinpoint which areas can benefit most from joint IP5 responses and develop a roadmap for future initiatives.

As they enter a new phase of co-operation, the IP5 offices agreed to consider promoting a more comprehensive IP agenda in 2019 to better respond to the needs of users who handle large IP portfolios with bundles of global IP rights. In this context, the EPO started developing a concept to harness synergies and promote closer collaboration between the IP5, ID5 and TM5 co-operation frameworks.

In 2019 the EPO also continued to invest in the Patent Prosecution Highway (PPH). The PPH provides European applicants with simplified, cost-efficient access to accelerated prosecution elsewhere on the basis of high-quality EPO work products indicating patentable claims. Our PPH network currently comprises of 16 partner offices that promote the systematic, wider-scale re-use of EPO work products. PPH participation volumes continued to increase steadily in 2019. By the end of 2019 the total number of incoming PPH requests exceeded 12 700, while over 28 300 PPH requests were filed elsewhere on the basis of work products established by the EPO.

Improving the quality of PCT services and products
The PCT is a key procedure at the EPO. Euro-PCT applications entering the European phase account for nearly 60% of all EPO filings and grants based on such applications represent 65% of the total.

Solid progress was made towards improving PCT minimum documentation in 2019, with a view to updating Rules 34 and 36 PCT by 2023. The taskforce set up by the Meeting of International Authorities (PCT MIA) convened for the first time in May 2019 and was hosted by the EPO. Many PCT authorities participated in the meeting, which focused on issues related to patent collections and non-patent literature into the PCT minimum documentation.
 
The user-driven IP5 pilot on PCT collaborative search and examination (CS&E) led by the EPO ran smoothly in 2019. The pilot foresees 500 files to be accepted (100 per office) and the EPO had almost completed its full pilot quota by the end of 2019.

The PCT paperless service launched in 2016 ensures the electronic transmittal of search copies and other documents from receiving offices to the EPO as international search authority (ISA) via WIPO. In 2019, the national patent offices of Costa Rica, Croatia, Cuba, Egypt, Greece, Ireland, Jordan, Kenya, Malaysia, the Philippines, Serbia and the United States joined the service, bringing the total number of participants to 46 by end of the year.

In addition to saving resources, this service also benefits PCT users by supporting the EPO's efforts to issue international search reports on time for the A1 publication at 18 months (97% in 2019). The service is being progressively extended with a view to including all receiving Offices in the PCT Paperless service by 2021 at the latest.

The pilot on netting PCT fees makes the financial operation of the PCT system more efficient for all offices concerned. By the end of 2019, 37 offices had joined the EPO-WIPO netting system, representing over 90% of all search fees transactions. The long-term aim is to extend the netting system to all receiving offices by 2021 at the latest. At its June 2019 session the PCT working group agreed to introduce a legal basis in the PCT covering this activity. This new provision will enter into force on 1 July 2020, making it easier for certain offices to join the new service. The programme also aims to ensure that the principle of equal service level between the EP and PCT procedures be applied in a consistent manner at the EPO.