Patents and other forms of IP are good for the European economy. A joint study we published last year with the EU Intellectual Property Office showed that IP rights have a positive impact on jobs, economic growth and prosperity.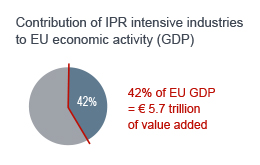 In October 2016 together with the EU Intellectual Property Office (EUIPO) we published our second joint study on the impact of IP rights on the European economy in terms of GDP, employment, wages and trade.
The study found that some 42% of total economic activity in the EU (some EUR 5.7 trillion annually) is generated by IP-intensive industries, and approximately 38% of all employment in the EU (82 million jobs) is in industries that have an above-average use of IP rights. The report also found that average wages in IP-intensive industries are more than 46% higher than in other industries.
These industries also appear to have shown more resilience in the face of the economic crisis. A comparison of the results of this study with those of our previous edition, published in 2013, revealed that the contribution of these industries to the EU economy has even increased slightly.
Europe strong in green technologies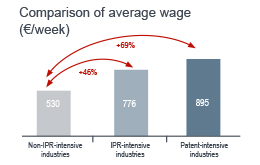 According to the report, IP-intensive industries account for approximately 90% of the EU's trade with the rest of the world. The study found that the EU is particularly strong in climate change mitigation technologies. This sector employs 1.2% of the EU workforce, but generates 2.1% of the economic output and accounts for a significant proportion of the positive balance of trade between the EU and the other regions of the world.
According to the report, about half of all EU industries are IP-intensive, with engineering, real estate, financial and insurance activities, manufacture of motor vehicles, computers and pharmaceuticals among the top 20 IP-intensive industries in Europe.