A record year for production and quality
Companies from around the world are increasingly seeking patent protection for the European market. To keep up with the growing demand for our services, the EPO has implemented/embraced a number of internal reforms to modernise its structure and increase efficiency, and enhance our high quality standards. These efforts paid off in 2015, resulting in a major increase in our performance.

Performance gains
Last year the EPO's 4 200 patent examiners delivered a record 365 000 searches, examinations and oppositions, an increase of 14% over 2014. The EPO also granted more than 68 000 patents, up nearly 6% over 2014 and the highest number ever. This boost in production was achieved largely by refocusing patent examiner resources on the grant and opposition processes.
Delivering faster services...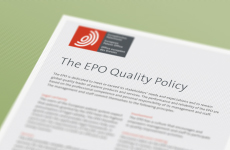 We also improved our timeliness in the delivery of our products and services: In the first 18 months of the EPO's "Early Certainty from Search" programme (launched in 2014), which aims to have search reports with written opinions on patentability delivered within six months from filing, over 85% of the searches produced met this target (including over 90% of international search reports being ready in time for "A"-publication). This means increased legal certainty for applicants: providing them with the information they need early in the patent grant process to better assess the risks and opportunities entailed in pending applications.
...without compromising on quality
We continued to focus on securing and further improving the quality of EPO products and services. In 2015 the EPO obtained ISO 9001 certification for its patent information and post-grant activities, extending this certification to the entire patent process. We successfully continued our internationally recognised and efficient patent classification work (the indexing of new documents from all over the world to facilitate their retrieval in searches), which is the cornerstone of high-quality patent searches. Almost 1.1 million documents were classified in 2015, and the backlog awaiting classification was reduced by two-thirds. Our users endorsed our efforts: in the 2015 edition of a survey of patent professionals by Intellectual Asset Management (IAM) magazine, the EPO was once more rated number one for patent quality among the world's largest patent offices.