Building our future
To consolidate its achievements and ensure sustainability in the long term, the EPO is investing in its future. A comprehensive set of reforms helps modernise the EPO's workplace. Investments in people, buildings and IT will help us to secure our future as a public service organisation supporting innovation in Europe.

Recruiting staff and modernising HR policy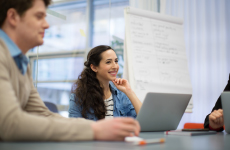 Staff are the Office's number one resource. Last year we recruited more than 160 new colleagues (and over 650 in the past five years), most of them highly-qualified scientists and engineers, to work as patent examiners. Our strategy has also included modernising our human resources management. Building on reforms of previous years, we successfully implemented a performance-based career system at the EPO in 2015, which provides us with a modern career framework supporting both business needs and expectations of staff.
Investing in IT
To meet the rising demand, and the increased complexity of the patent applications we receive, the Office continuously invests in new IT tools and systems. We have focused on two main areas: the patent granting process and search tools and information management. We have also put in place new online filing tools for our applicants and improved IT systems for our managers. With the help of these and other projects, the EPO has achieved major progress in mastering the world's prior art, especially the increasing volumes of Asian prior art, and has improved the efficiency of search and examination.
A new building in The Hague
Construction work on the EPO's new building for our site in The Hague advanced well in 2015, with the basement taking shape. The new office building will replace the main tower built 40 years ago and will offer state-of-the-art facilities to our more than 2 600 staff in the Netherlands.