Close co-operation with our partner offices in Europe and around the world is key to developing an efficient and effective international patent system.

In 2018 we worked closely with the national IP offices of our 38 member states to improve our services and make life easier for inventors and industry. This included raising awareness of patent protection in areas as diverse as artificial intelligence, the space industry and green technologies. We implemented a range of joint activities aimed at strengthening the European patent system, for example by increasing the number of qualified patent attorneys, training national patent office staff and exchanging high quality patent data. Thanks to these efforts, our free information tools - Espacenet and the Federated Register - now offer an instant overview of prior art and legal-status data from around Europe to everyone.
Reaching beyond Europe
Bilateral co-operation with countries outside our organisation also intensified. In March 2018 a validation agreement with Cambodia came into force, making it the fourth country (after Morocco, Moldova and Tunisia) and the first Asian one to recognise European patents on its territory. As a result, European patents can now be granted for up to 44 countries on the basis of a single application, covering a market of some 700 million people.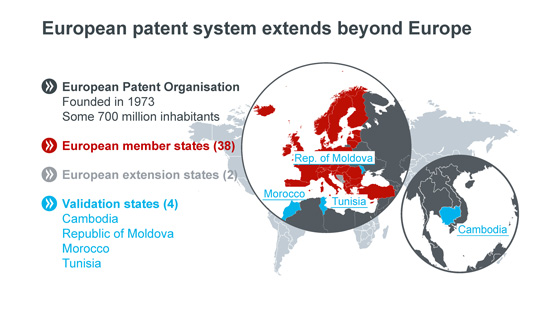 A new form of partnership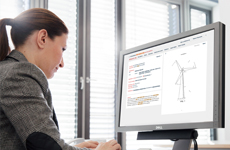 In June 2018 the EPO broke new ground by signing its first "reinforced partnership" with the Companies and Intellectual Property Commission (CIPC) of South Africa, enabling us to co-operate on designing the legal framework to introduce substantive search and examination under the country's national IP policy while also improving the patent grant process through work-sharing. Under this new form of co-operation, partner countries outside Europe can systematically re-use the search and examination results produced by the EPO when granting national patents under their own legal framework. They also receive advanced technical assistance. The aim is to build up the country's capacity to provide efficient high-quality patent procedures, whilst also serving European users and industry, who in future can expect to find similar conditions to home when protecting their inventions in these markets.
Sharing work and common tools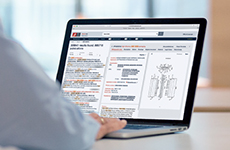 Other forms of technical co-operation are aligning patent systems worldwide: in 2018 we signed agreements with the IP offices of Argentina, Australia, and Canada, which paved the way for them to adopt the Cooperative Patent Classification, a joint scheme developed by the EPO and USPTO and now used by 29 patent offices globally. Sharing a common classification scheme facilitates access for the public and experts to technical information contained in patent documents from around the world, and also helps to improve the quality of the work carried out by patent offices.
Meanwhile, the Patent Prosecution Highway (PPH) programmes, which we are implementing with 15 partner offices worldwide so far, are becoming increasingly popular with patent applicants, as they can obtain patents more quickly and efficiently through fast-track procedures. By the end of 2018, the EPO had received more than 11 300 requests under the PPH, and the number of European users requesting PPH at the other offices using work products established by the EPO had reached 19 000.
The EPO on the global stage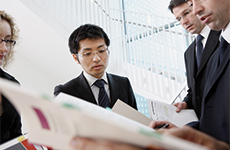 At multilateral level, co-operation continued with our IP5 partners (the patent offices of China, Japan, Republic of Korea and the US). Together we handle 85% of the patent applications worldwide, and many of them are cross-filed at two or more of our offices. In 2018 the IP5 identified artificial intelligence as a joint priority and agreed to analyse its impact on the IP system, with a view to exploring how we can align our policies and practices in this area. We also continued to improve the services we offer under the Patent Cooperation Treaty. In all these activities, the EPO continued to seek feedback from industry associations and IP professionals to ensure that our services are meeting users' needs - not only in Europe, but around the globe.