A look at self-driving vehicles, AI and blockchain.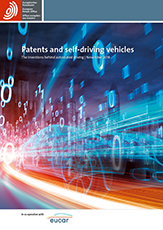 Following its 2017 report on patents and 4IR, the Office continued to communicate important patent trends in digital technology to stakeholders, and to contribute to public discourse in this field in 2018. The Chief Economist Unit published the first-ever study on patents in self-driving vehicles (SDVs), and we held two conferences on patenting AI and blockchain that were attended by diverse stakeholder audiences, including academia, IP institutions, users and industry.
The SDVs study showed that both the automotive and ICT sectors are undergoing significant transformations. Investment in R&D for SDVs has been substantial and resulted in a steep growth in patent applications. Between 2011 and 2018, patent applications related to SDV technologies outstripped the baseline rate of growth across all technologies twenty-fold: Compared to 16% for all technologies, the EPO noted a 334% increase for SDVs for the same period.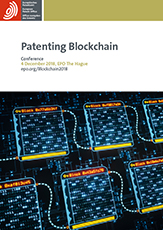 AI and blockchain are being applied to an ever-increasing variety of technical fields, leading to new inventions susceptible of obtaining patent protection. The EPO conferences took up these developments by providing a platform for discussion and clarifying our approach to examining related patent applications by outlining the patentability requirements in the field.
The EPO's conference on AI revealed the unparalleled growth in the number of AI inventions: Nearly 6 000 patent applications were filed at the EPO between 2011 and 2016. A similar trend was reported for inventions on blockchain. There are now some 4 000 patent families related to this field, with the majority of them having been filed since 2015.
As 4IR unfolds, ICT industries will continue to be among the most R&D-intensive sectors. The role of patents in the promotion of these technologies is evident as they secure the investment needed for advances in this field. Using the stakeholder feedback obtained in 2018, we will continue to further adapt our practice to the needs of the users in order to effectively support the development of ICT industries.